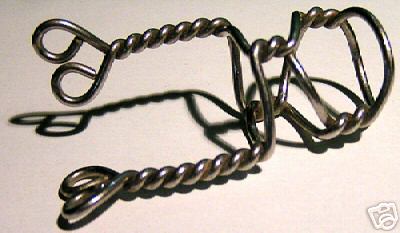 We're just at the stage where we wish/hope the new kid will learn how to suck her thumb and self-soothe, but instead of giving her the chance, we usually seem to take the instant pacification route by plugging the pacifier back in.
So it's a bit of a stretch to imagine wanting to stop a kid from sucking her thumb. And it's beyond me to imagine wanting it so bad, you'd tie a freaky-looking thumb cage on her hand. [Apparently, you thread ribbons through the heart-shaped loops at the bottom, and tie it onto the kid's wrist.]
What I can imagine, though--because I've seen Crash, and a disturbingly sexy Rosanna Arquette getting down with her giant leg brace--is that this thing could have substantial long-term effects that the average toddler's parent doesn't even want to contemplate.
If you want to nurture your kid's fetishistic side, though, this puppy's on eBay for another three days.
vintage 1934 CHILD thumbguard stop thumb suck trainer, auction ends apr 5, first bid $20+5.50s/h [ebay via andy]