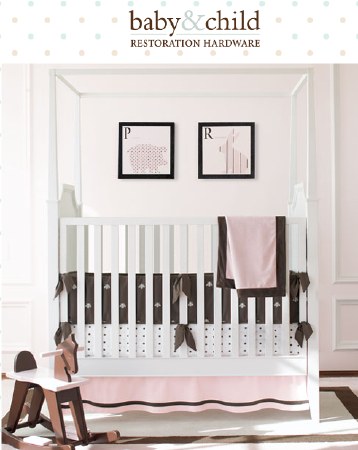 Whatever happened to Restoration Hardware's Baby? Patty and the trades reported it last Spring, and DT reader Mark wondered aloud about it a couple of days ago. Now according to Chris, Daddy Types' mall correspondent, Restoration Hardware is indeed planning to launch Restoration Hardware Baby & Child, a catalogue/web/store brand extension that frankly sounds a lot less necessary to me than it does to the the company's CEO:
"This is a severely under-served category in the top shopping centers," said Gary Friedman, president and CEO. Noting that the top 100 centers "have only one offering – Pottery Barn Kids," he said Baby & Child will be positioned slightly higher in pricing strategy.
In other words, Crate & Barrel Kids.
At least that was the plan last May. RH Baby & Child was supposed to launch last year, just one of six [six!] brand extensions meant to turn the company around and offset the effects of the rapidly tanking home buy/sell/renovate market. In August, the company announced layoffs and a big reorganization. They're weighing buyout offers from Sears and a private equity firm. The business is hurting, and they're losing money at a rather alarming clip.
And yet they say the first Baby & Child catalogue will still come out, only in Summer '08. And yet Chris reports that the Dallas store people were getting ready to lose some floorspace for the new in-store kids shop, date and size to be determined. [Though we do know the color: chocolate. Chocolate is the new green for kid gear.]
So they're targeting Pottery Barn Kids with a more upscale Crate&Barrelly offering. Meanwhile, C&B's own children's subsidiary, Land of Nod, does almost nothing, just stay alive. Design Within Reach/JAX came and went within eight months. Babystyle's in Chapter 11. And this is somehow the "severly underserved" market that Restoration Hardware--and now GapKids Home, too-- are launching into? I just don't get it.
"Babies. Puppies. Engagement rings?" They have that in exactly the wrong order: Restoration Hardware Baby & Child [rhbabyandchild.com via chris]
Restoration Hardware getting into baby biz: Will launch catalog, Web site [kidstodayonline]