Well, that didn't take long. BabyGap Home went live on the gap.com site today, and first impressions: not bad, for a total chickfest.
It's definitely a small, tightly edited collection of brands and stuff; the BabyGap flagship product seems to be their own bedding sets, which comes in five different design themes, some mix&matchable pieces, and a couple of solids. Lots of organic sheet options, lots of polyester fleece blankets.
There are only one or two brands in each merchandise category: Quinny Buzz, Maclaren, and Peg Peragao [sic] strollers--yes, no Bugaboo; Peg and Quinny Maxi-Cosi [sic] car seats. Little Twig organic, phthalate-free shampoos, and no California Baby or Mustela. A Bjorn and two slings. A half dozen ribbony pacifier clips, but only a dozen or so books.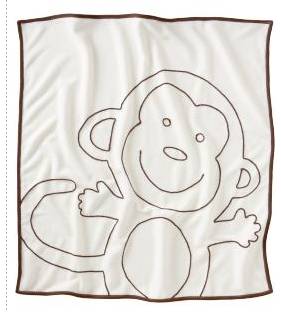 There are some simple things to retreat to--the blankets with big, embroidered line drawing animals are kind of cool--but the relentless, greeting card cuteness, combined with an overriding brightness of color and patterns tells me dads are just guests in BabyGap Home. Actually, the President of BabyGap tells me that, too, in a press release:
"Today's mom stays on top of the latest trends – she wants her baby to be current and stylish. She also expects safe, high quality products at affordable prices," said Pam Wallack, president of babyGap and GapKids. "babyGap Home brings all of these things together in one well-edited collection. Our goal is to be a trusted editor, providing moms with everything they need and want in an aesthetic and sensibility that's unique only to babyGap."
BabyGap Home open online for the ladies
[gap.com]
Previously:
Get ready for the launch of BabyGap Home [assuming you have a uterus, that is]
BabyGap: "Just for mom"!