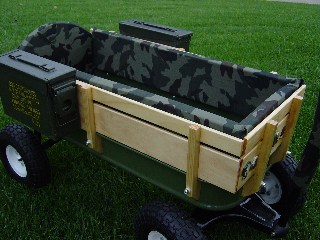 At first I was too blown away by the website's name--My Wholesale Baby--to worry that the authentic ammunition boxes add 15 pounds to West Coast Wagons' custom camo rig.
Then I was whipsawed by the sales pitch:
From hand painted designs, to aluminum wheels & DVD players, parents can't wait to pull their prize possessions around town in their pimped out theme wagons.

...

Who owns a West Coast Wagon? Brad Pitt & Angelina Jolie, Johnny Depp, Melissa Joan Hart, Gwen Stefani, Leah Remini, Courteney Cox & David Arquette, Gwyneth Paltrow, Tom Cruise & Katie Holmes, Angie Harmon, Adam Sandler, Diane Farr, Angela Bassett, Christian Bale, Brooke Shields, Heidi Klum & Seal, Jennifer Garner & Ben Affleck, Carnie Wilson, Holly Robinson Peete, Jason Priestly, Louie Lombardi, Neal McDonough, and Donald Trump.

Whether they pull them around the yard, through the park, or on the beach, the new celebrity stroller is a WAGON!

West Coast Wagons began as an alternative to the stroller for a little girl who was born disabled.
OK, then. Takes all my comments off the table. Forgive me, People Magazine for I have sinned. I have thought critical thoughts about the excessive gifting of $800 Radio Flyers to famous strangers in my heart. Now if you'll excuse me, I have to go look up who Holly Robinson Peete is.
Celeb Kids Dream Rides by West Coast Wagons, $395-795, 100% discount for SAG, DGA [mywholesalebaby.com]
Aha! Holly Robinson Peete and Diane Farr co-starred in Like Family (2003-4) [imdb]