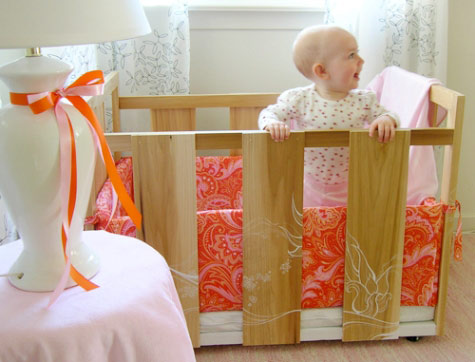 Killer crib, dude!
Vote now, and help turn Design*Sponge's DIY contest into a potentially lifesaving learning opportunity for everyone about the safety hazards posed by crib slats that are more than the government-mandated 2 3/8 inches apart [head gets stuck, entrapment, choking, suffocation] and by filling your kid's crib with soft bedding [suffocation].
Look, I'm all for freelancing on your kid's furniture and toys and whatnot, but start by studying up on the Consumer Product Safety Commission's safety standards for whatever you're making. Check them again in the middle of the process, and then check them again at the end.
On the bright side, I bet that tole painting is done with 100% lead-free paint.
2008 D*S DIY Contest: VOTE! [entries 9-12] [designspongeonline.com via andy]
Regulated Products > Cribs - full size and non-full size, FHSA 1500 [cpsc.gov]