So I got a little sick of bottles strewn across the counter and little rubber valves slipping between the drying rack, and I bought a Skip*Hop Splash bottle rack and brush combo [Wow, $28? Seems a little pricey, but then again, it's perfect giftbait for a registry or shower. Well played, Skip*Hop.]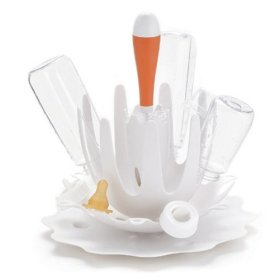 Needless to say, once you fill it up, it does not look remarkably like a classic, stop-motion photograph of a drop of milk splashing into a bowl anymore; it looks like an explosion of bottles and doodads.
Also, I love that the bottom shelf is actually called a "doodad shelf". Though if you use Ventaire bottles, realize that you have 2x as many doodads as other brands, so you'll stick them wherever you can.
Buy a Skip*Hop Splash bottle rack & brush for just $26.25, shipped, no tax, from Amazon OR do what I did, and Get a Splash at Buy Buy Baby for $28 + $3 tax, + $10 cab fare, + $2 return train. Knucklehead. [amazon]