Sometimes you're the whacker, and sometimes you're the weed. The last time we saw the Quebecois crib powerhouse Morigeau Lepine mentioned on Daddy Types, they were hiding a flatout David Netto knockoff crib in the walled booth at the ABC Kids Expo in Las Vegas.
Well, now the foot's on the other--karma's a bitch, and then you-- oh, what the hey, the Morigeau Lepine 9000 [catchy name, eh?], a convertible crib/bookcase combo, which I just saw at BuyBuyBaby for $1,439 [conversion kits extra], has been knocked off by Sweet Pea, and is for sale at JC Penney for just $399. In fact, at the moment, it's $50 off that price, just $349.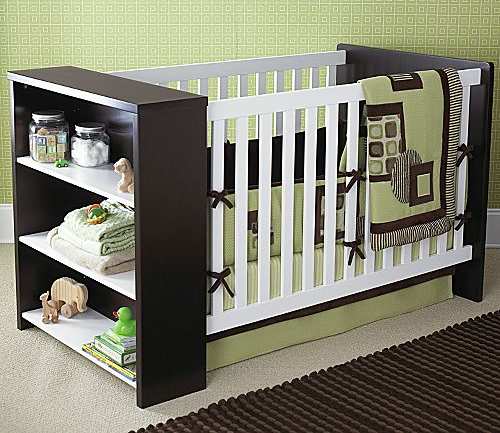 It's described as "crib is solid hardwood," which leads my newly suspicious mind to think the "bookcase" is made out of sawdust and glue, MDF, or some combination thereof. Still, $1,090 is quite a spread.
Sweet Pea Modern Crib, on sale at JC Penney online, $349+s/h [jcpenney.com via ohdeedoh]