While trying to find any mention or pictures of the non-pastel bottles Playtex finally got around to making, I went to the company's website, PlaytexBaby.com. I thought I was long past the stage where cared enough to point out retrograde, dad-exclusionary crap like this--"Solutions For Mom" and "We design our products with you [Mom] and your baby in mind."-- but I guess not.
Realistically, I guess I shouldn't expect anything else from a company that started making latex-infused bras and girdles. But is Playtex still solely a women's product company? Let's go to the tape:
Playtex.com is shared by the two separate Playtex companies. Turns out Hanes bought the bra and girdle business when it was spun off in 2006.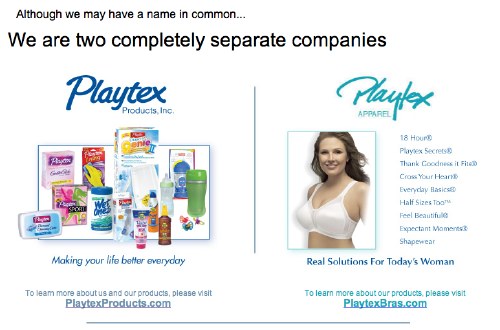 Of the six product lines on Playtexproducts.com, only tampons is inarguably women-only. [the others: Wet Ones, Banana Boat, Hawaiian Tropic, and baby care. And dishwashing gloves. According to reports dating back to the Bob Eubanks era, men occasionally wash a dish, though not with gloves; I bought mine to strip the paint off our doorknobs.]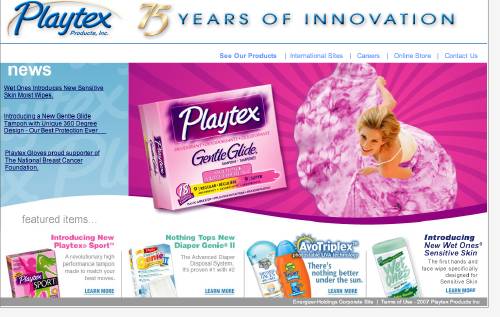 And though PlaytexBaby.com includes a big range of breastfeeding products, even most of those can't be considered women-only for families where dads are involved in feeding, storing and thawing milk or washing gear.
If you want to see the negative effects of a baby company limiting its focus to moms and babies, just look at the debacle that was the previous generation Diaper Genie; while the stuff-n-twist top made the woman's job [sic] of changing diapers easier, the unwieldy, twisty sausagesful of diapers and the topheavy canister made the man's job [sic], taking out the trash, a smelly pain in the ass. Did no one ever think of that in the design stage? Playtex?
I'm not under any naive illusion that either the consumer products industry or the baby industrial complex should turn into a dad-centric support group overnight; that'd be a giant fiasco. Women are still the primary buyers and users of most of these baby and household products. But the idea that they're the only buyers and users is as outdated and uncomfortable as an 18 Hour Girdle.
Dads don't really need much to tip them in favor of a baby product: it's usually enough to not alienate, annoy, or embarrass them--and to improve the overall usability of a product. By reconsidering the entire disposal process, the Diaper Genie II was a marked improvement over its predecessor. Getting rid of treacly pastel colors on Advance Ventaire bottles makes them less girly and helps differentiate them on the shelf [also, it saved me from wasting a few thousand bucks, thanks!].
K2's waking up, so I'll have to end my/this rant here. Playtex, you still have some work to do.
Previously: 06/2004: PLEASE redesign the Diaper Genie
08/2006: 'Thank You?' Try 'You're Welcome': Playtex Unwraps The DiaperGenie II