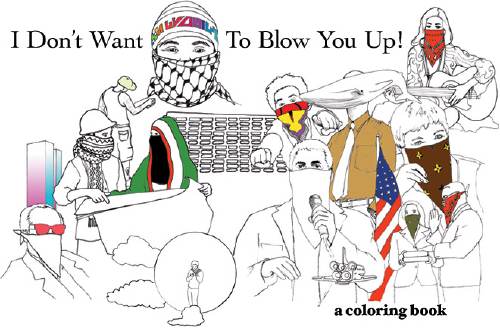 Global war on terror harshing your buzz? Ever thought what it'd be like if, like, all the jihadi Muslims were actually just the figment of some galactic giant's imagination? Or maybe they're, like, atoms on the fingertip of some giant? Or maybe you have a better explanation [that's still somehow giant-related?]
Ricardo Cortes, the Brooklyn artist who's previous children's book, It's Just A Plant, has helped keep literally dozens of toking parents from getting narced out by their loose-lipped kindergarteners, has a new project.
The NY Times yesterday had a story about I Don't Want To Blow You Up!, Cortes's awesomely titled coloring book intended to combat irrational prejudice against Muslims. Each spread introduces a friendly and famous Muslims like, say, Kareem Abdul-Jabbar, and the reassuring tagline, "He [or she] doesn't want to blow you up!"
The book's publication was delayed a couple of months while the authors decided to ignore Kareem's cease & desist letter. They did add a disclaimer, "and a new rubber stamp of a beautiful sun emerging from the clouds."
For A Book About Peace, A Dose Of Trouble [nyt]
Order I Don't Want To Blow You Up!" online, 32 pages, $9 [blowyouup.com]
Previously: It's Just A Plant: A Book to Explain Marijuana To Your Kids
Related, except that it's not Brooklyn ironic: Greenham anti-nuclear demonstration 25th anniversary colouring book