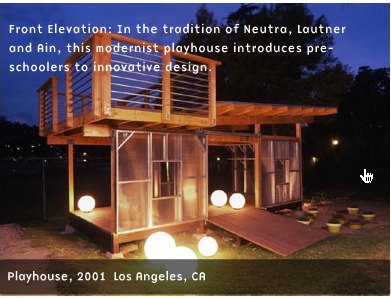 While surfing around for some kitchen cabinets last night, I inadvertently stumbled upon one of the earliest Landmarks [wait, too early to use that word? No, it is not.] of the Golden Age Of Hipster Parenting: a playhouse dating way back in 2001 [!] at a nursery school in Silver Lake, CA, which was designed "in the tradition of Neutra, Lautner and Ain," to "introduce pre-schoolers to innovative design."
It was designed by John Sofio of Built, Inc., a local firm. As he told Michelle Kodis in her book, Ultimate Backyard: Inspired Ideas for Outdoor Living, "There's a real Neutra vibe going in this community...The parents wanted the playhouse to reflect that sensibility. In this neighborhood, we teach them about modernism right from the beginning." [emphasis added for sheer awesomeness]
I'm sure it's too Santa Monica to mention, but the rawness of the materials says more Early Gehry than Late Neutra. But what I really wonder is, shouldn't someone be rounding up 10-yr-olds at the Trader Joe's and seeing how this whole mod4kids experiment turns out?
Built, Inc. completed residential projects [builtinc.com]
"For Kids Only," from Ultimate Backyard: Inspired Ideas for Outdoor Living [google books]
Previously: Un. Be. Lievable modernist playhouse, Mies-style; Long Island modernist playhouse, Meier-refugee-style