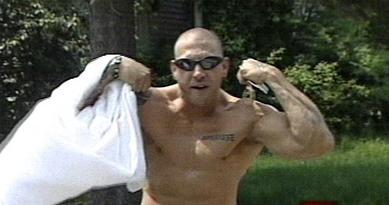 I want to clear up any misconceptions that might have arisen from that report last May about Massachusetts martial arts expert and dad Derek Lindsay getting arrested for disorderly conduct at McDonald's after telling his kid to push some other kid out of the Shrek balloon animal line, then threatening to kick the kid's dad's--and the police officers summoned to the scenes'--asses.
DT commenter Allan writes in to point out, "those charges are trumped up," and Lindsay is both a "longtime hometown hero" and a "great dad." Sorry for the mixup.
DT passed along reports from what we thought we credible, local news sources, but now the accuracy of those reports have been called into question. For example, we called Mr. Lindsay's McDonald ass-kicking arraignments his 129th and 130th. That was incorrect, and Daddy Types regrets the error.
Mr Lindsay's 129th arrest was actually last month, after he taunted and harassed professional fighters and police officers at the Reality Fighting - Annihilation event at Memorial Hall in Plymouth. Not surprisingly, those charges are "grossly blown out of proportion also...as for the first hundred," Allan continues, "I'm sure he was guilty of a few but that doesn't make him the man who set the chicago fires too!" If only Tom Brady had such powerful defenders.
Taunton man with long record of arrests bagged again [patriot ledger]
Check out the last graf: REALITY FIGHTING: ANNIHILATION [unlimitedfightnews.com]
Previously: Stone Cold Derek Lindsay Stars In Disorderly Conduct 41: Big Mac Attack