Did you know we live in a "Post-Bugaboo world"? Me neither, but it's in New York Magazine, so it must be true! Writer Faye Penn put nine "status strollers"--ok, technically, there were eight, plus the somewhat Bugaboogish Fisher-Price--through the city's obstacle course of stoops, store aisles, subways and buses [!] and cobblestone streets. Then she boiled her experience down to a hundred or so pithy words per rig.
As someone who's written one of these stroller mega-roundups and survived, I'm pretty sure Penn's in a state of PPD, Post-Published Depression: I wrangle with all these stroller loaners, I lost the use of the dining room for a month, and I had to ride the bus, and all I have to show for it is, "Masculine design's a dad-pleaser"?
Well buck up, Faye, you done good work. Now if you could just publish the unlisted VIP customer service numbers we can call to have stroller company reps come to our house and set up our rides for us:
Stokke Xplory
Setup & Breakdown: We can't judge the assembly, because the Stokke rep insisted on delivering it pre-built (which made us wonder). Without instructions, which were not supplied, figuring out the collapse required a home visit from another Stokke rep.

...

Bugaboo Cameleon
Setup & Breakdown: Came assembled with no instruction manual; techie husband figured out how to collapse mechanism.
Yeah, those Norwegians are suspicious, so unlike the Dutch.
Some other snap judgments:
Quinny Buzz: makes you look like the nanny.
Maclaren: "frumpy" [!?], wheels fall off [!?? still?], but the nanny's favorite
Orbit: the paparazzi's new It Stroller
Bugaboo Bee: "lightness," narrow seat = "zombie arms"
Micralite Toro: "Practically turns itself."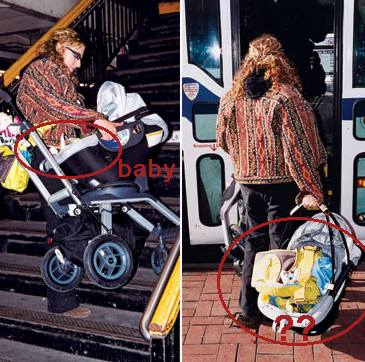 waitasec, where's the baby?
This Is How We Roll: Test-driving Nine Hyperfunctional Strollers [nymag]