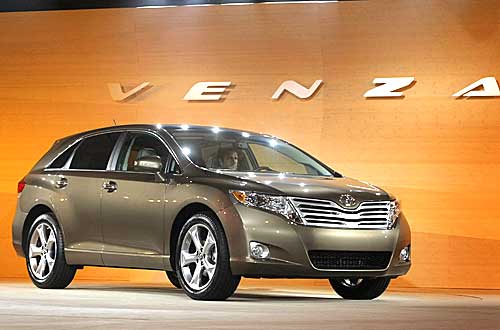 Sorry, MSNBC, the LA Times has spoken! Station wagons aren't dead after all. They're fine; they're just not called station wagons anymore.
"It is believed that 'wagon' is a death sentence for a vehicle," said Alexander Edwards, automotive division president at Strategic Vision. "So people come up with other names for them or slight variations on the theme."

A prime example, many say, is Toyota's Venza, introduced this month at the North American International Auto Show in Detroit. With its ground-hugging design and raised rear roof line, Toyota calls it a "crossover sedan." Aaron Bragman, an auto industry analyst at research firm Global Insight Inc. who was at the unveiling, had a different take on it: "Camry station wagon."

Toyota begs to differ. "It blurs the lines between sedans and crossovers and SUVs," said spokeswoman Denise Morrissey of the Venza, which will be built in Kentucky on the same platform as the Toyota Camry, the Avalon and the Lexus ES350. "It's not a station wagon."
Some
people, though--young and euro-y people, primarily--have no problem with the station wagon concept or name. VW, Volvo, Mercedes, Audi, they all make wagon wagons.
Frankly, though I'm a recently enlightened station wagon fan, the LAT's slideshow doesn't make a very compelling case for this non-wagon wagon trend; most all of the photos are of actual wagons--Volvos, a Subaru, the VW SportWagen--or totally non-wagon hatchbacks like the Mini Clubman, the BMW X6.
Otherwise, the Taurus X and the Cadillac SRX are not wagons the same way Larry Craig is not gay. All we can do is wait for them to finally figure it out.
Don't Call it A Station Wagon [latimes via jason from ricedaddies]
Related: Cadillac launches its first ever station wagon--except for all the rest [truth about cars via jj daddy-o]
Previously: Discontinuation Of Dodge Magnum Somehow Signals End Of Station Wagon Era