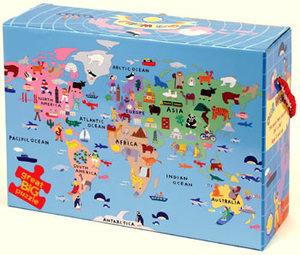 The kid's been something of a puzzle fanatic for a while now, which gives the grandparents just the in they need to shower her with unbidden gifts. Making the most of it, we've been explaining what states, countries, and continents are as we do these giant floor puzzle maps published by Mudpuppy.
See, because on this Our World Floor Map illustrated by Kaori Watanabe, the continents are all color-coded: there's Africa, which is tan; and Asia's green; Australia's yellow; Antarc--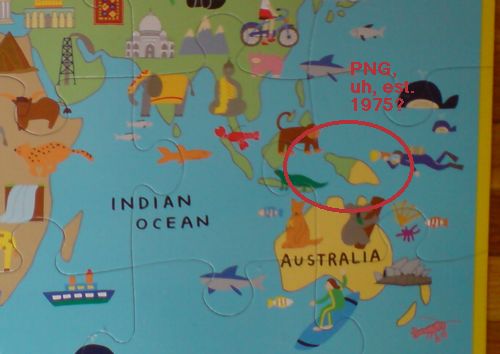 Uh, no, that island is actually two countries: Papua New Guinea, and part of Indonesia. Did you know Indonesia's a country made of hundreds of isl--
No, I know it's the same color as Australia, but it's not part of Austr--
No, they just needed a way to show that the island is two different countries.
That's true, but Melanesia's not a separate continent. It's--you know what, let's just look it up on the computer:
After being colonised by three external powers since 1884, Papua New Guinea gained its independence from Australia in 1975.
See, honey, in the Japanese edition of the puzzle, all these countries are red because they're part of the
Greater East Asian Co-Prosperity Sphere
.
Celebrate old school colonialism with Mudpuppy's Our World Floor Puzzle, $16 [mudpuppy.com]
Papua New Guinea [wikipedia]