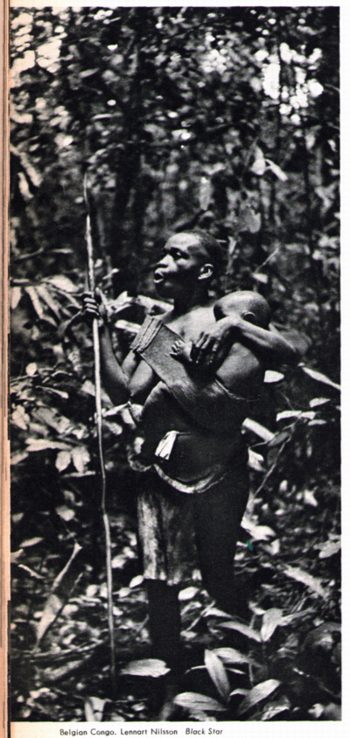 There were some exceptions, but in the photos in Edward Steichen's massive 1955 exhibition, The Family of Man, they liked their women nursing or pregnant, and they liked their black people naked, maybe holding a spear. As Louis Kaplan wrote, quoting photographer Allan Sekula:
"The Family of Man and its photo globalism is not the demonstration of a priori universals, as it claims, but a willful attempt to universalize in the name of a particular American bureaucratic agenda. "My main point here is that The Family of Man, more than any other single photographic project, was a massive and ostentatious bureaucratic attempt to universalize photographic discourse." From Sekula's perspective, The Family of Man is an exercise in hegemony--a capitalist cultural tool in the struggle for world domination at the height of the Cold War. "In the foreign showings of the exhibition, arranged by the United States Information Agency and co-sponsoring corporations like Coca-Cola, the discourse was explicity that of American multinational capital and government--the new global management team-- cloaked in the familiar and musty garb of patriarchy. [American Exposures, p. 76]
The irony, at least in the case of this photo of an Aka tribesman carrying his son through the Belgian Congo, is that the musty old patriarchy ends up subverting itself. There are no gender-based divisions of labor when it comes to parenting in Aka culture; men are equal participants in raising their kids from infancy, right down to suckling. [Washington State University anthropologist Barry Hewlitt observed
Aka dads calming their babies while hunting by letting them sucking on their nipples
. Finally, they're good for something besides titty twisters.] The Aka's example ends up calling into question the biological determinism of male-female roles.
And also, it's been 50+ years, and has anyone come up with a cooler-looking canvas sling? Aka: 2, First World: 0.
update: uh, yeah, so about that Aka photo subverting patriarchy and white corporate rule? While it's still true that Aka babies use their dads' nipples as pacifiers, that's not one in the photo. As Ella points out, that Aka hunter is a mom.
Bonus Congo trivia: the photographer Lennart Nilsson is the same guy who went on to do all that insane endoscopic photography of embryos and feti in A Child Is Born.
Previously: The Family of Man and Wayne Miller's Family
Still no info on that Dorothea Lange photo of a dad holding his new kid
Why Men Have Nipples. Seriously
Lennart Nilsson's A Child Is Born and that NOVA episode you remember