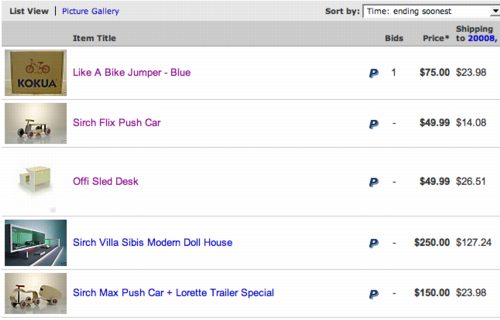 Yeah, I could just email Hillsborough, CA eBay seller Noodledoodle.home to see how they're offering new, high-end toys and kids furniture on eBay for seemingly crazylow, non-MSRP prices.
But with the new kid-related caps on my daily typing quota, I probably couldn't get around to posting their reply until next week.
So instead of actual explanations, let's just imagine a virtual Mercedes R-Class has pulled up alongside you at the light. The door's too long to open anywhere except an empty parking lot, so the passenger window slides down, and a virtual dude in a virtual wifebeater calls out, "Hey pal! Wanna buy some Sirch molded ply ride-on toys? Fifty bucks! Psst! Need a Villa Sibi doll house? For you, $400. You like Offi? I got Offi! How about a Like-a-Bike, the real thing, cheap as a Skuut?"
Check out noodledoodle.home's eBay auctions while they last. [ebay via ebay shark andy]