One of the reasons we love the Stokke Tripp Trapp high chair was because it doesn't have a tray; the kid sits right at the table and eats and plays along with the family. It's a dynamic that works well for us, but there are definitely folks who prefer to give a kid a little space of his own. Unfortunately for them, Stokke doesn't offer a tray for the Tripp Trapp, but with 35+ years of Tripp Trapps in the dining rooms of Europe, a few companies have stepped in with aftermarket options.
DT reader Melanie has been keeping me up-to-date on their tryout of the translucent plastic Play Tray from the Danish company, 4mykid. Her verdict: it's "worth every kroner." [Though to be clear, those kroners and euros are probably feeling a bit cheaper to someone spending their newly powerful Candian Dollars.]
For folks stuck with American money, EUR54 - VAT +shipping might seem a little steep. But I seem to remember a wooden tray that used to turn up on eBay.de for like EUR5-10, a big crescent-shaped thing cut from a sheet of matching birch plywood. Didn't have the handy spill-containing lip of the Play Tray, but what do you want for five euros? Aha, there it is, the Clic Clac Tisch fur Stokke Tripp Trapp. Sehr schoen.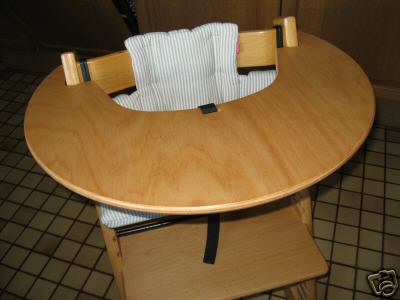 Check out Melanie's review and a photo [threebearsandacat]
Check out the EUR54 wondertray at 4mykid.dk [4mykid.dk]