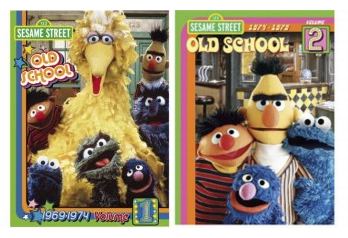 Yeah, no one's paying too close attention, right? So if I've been posting about vintage Sesame Street for years without actually sitting down to watch the Old School episodes on DVD, no one'd notice, right?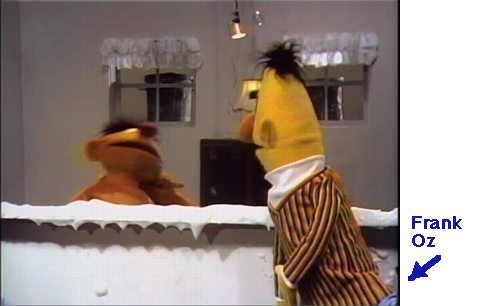 BECAUSE HOLY CRAP, WHAT IS GOING ON WITH THE FIRST EPISODE OF SESAME STREET??
First off, the pacing feels incredibly slow. The show kind of meanders, as if the entire narrative structure is just a stroll through the neighborhood. [This changes a little bit in later seasons, but not much. As much as I don't ever want to hear about Luis making huevos rancheros again, I have to admit the shift to longform stories in each episode does make the show more watchable, at least as a whole TV show. More on that later.]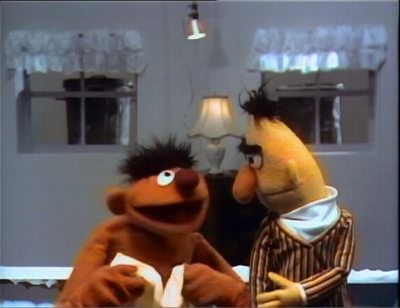 Bert's not just annoying; he's unlikable. Also, he checks out Ernie's ass when he gets out of the bathtub. I swear. I'll get a screengrab. So forty years of kids having their nascent gaydar set off by these two? Pretty much right on, from the first five minutes of the series.
And speaking of unlikable, Oscar is not just a grouch, he's an outright dick. Yes, it's more interesting. Yes, it's more realistic or complex, but I don't care. As someone who's kid regularly goes all Cookie Monster on us when the basket of chips comes at the Mexican restaurant, I know the power of those Muppets' examples. And they better behave.
But what blew my mind, well there were two things: the human dialogue is largely improvised, with hilarious effect. Gordon--who is apparently a teacher, who knew?--was sitting down with a new girl in the neighborhood while Susan brings them milk and cookies. I'll get the exact dialogue later, but it goes something like this Check this out:
GORDON: It is time for some cookies and milk. sally? do you like cookies and milk?

SALLY: I love it!

GORDON: You love it? Really?

SUSAN: Oh, that's good.

GORDON: [crosstalks] She loves milk. You can't go wrong with Sally.

SUSAN: It's good for you.

SALLY: When I was a little girl, I used to love coffee [inaudible]

GORDON & SUSAN: [chuckle]

GORDON: Well, that was just one short experience. Drink the milk, It's good for you. Makes you good strong bones.
I'd wonder what I'd just seen if I wasn't so weirded out by Gordon's massaging the kid's shoulders the entire episode as he introduces her around the 'Street.
Now I'm not saying Gordon's a perv; meeting Roscoe Orman in the bakery on 9th Avenue one morning was a formative New York experience for me. [They used to tape the show in Manhattan before moving to the Kaufman Studios in Astoria.] It's just that the behavior being modeled in the 1969 show--go home from school with a stranger, enter his house, let him rub your shoulders for an hour--is absolutely not what you'd want a kid to pick up on in 2008.
There are some fascinating books to be written about Matt Robinson, the original Gordon, who was very involved in writing and creating the show. [Maybe they already were? Anyone?] Gordon's character was envisioned as the core of the entire show, a positive black male role model for kids growing up in the ghetto. And Robinson took to it with a seriousness and complexity that feels like the 1970's. And that's almost impossible to imagine in this era of Elmo TMX saturation.
Robinson's entry on the Muppet Wiki mentions it, but check out the comments on this Muppet NewsFlash post. It's the excerpt from the 1970 NY Times Magazine article on Sesame Street where Robinson's own ambivalence with "the feminists'" agenda for Sesame Street bleeds through the improvised dialogue where Gordon and Susan talk about Susan going back to work as a nurse.
The early seasons of Sesame Street have the kind of raw feeling where an actor's personal animus about women working could slip through. It's an unpredictability that's kind of fascinating, but as a parent, it's also annoying and unreliable.
My mom--who gave us the Season 1 & 2 DVD's for Christmas--told me that I should mention that The 'Street "saved her life." The first show aired just a couple of weeks after my brother was born, and just as our dad started grad school. So there was my young mom, uprooted and all alone, all day, with a cantankerous newborn and a rambunctious 2-yo. She sat me down in front of that first episode and every one that followed, twice a day, for months, until she got to where she could manage us. Not that I'm not grateful to the Children's Television Workshop, of course, but I can't see doing the same with our kids. At least not with those wack early seasons I grew up on.
Buy Sesame Street: Old School Vol. 1 (1969-1974) and Vol. 2 (1974-1979) for yourself, see [amazon]
Previously: NYT: The Street Is No Place For Children
Jim Henson? Crazy, And Thank Heavens For It
update: Here are a couple of screenshots related to 22monthdad's comment below. It's a long, slapsticky segment that teaches "around, through, and over" by following a gang of kids playing in a garbage dump and a boatyard/construction site. Don't worry, the bucket that fell on that one kid's head was just water, not turpentine or paint! HAHAHAHA!