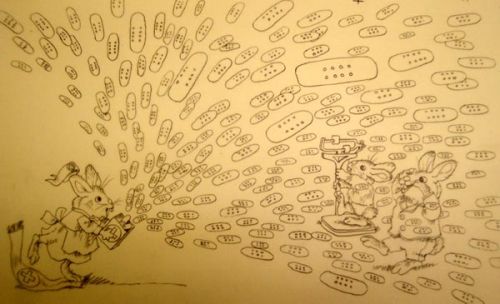 He was a crazy dude, but I love me some Richard Scarry illustration, both his cartoony Cars and Trucks and Things That Go style and his more traditionally watercolor style, like his wonderful paintings for Ole Risom's I Am A Bunny.
Andy points to Every Picture Tells A Story, a Santa Monica gallery selling original Scarry artwork of both types for what seem like very reasonable prices, considering [around $2,000-2,500 apiece].
The subjectivity of the real [sic] art world is something I'm very comfortable with, but the way prices and values are calculated in the children's book/illustration art market is frankly baffling. I'd imagine original art for/from books is more valuable than made up drawings of those same characters. But I'd also imagine not many artists letting that stuff go, so what hits the market is by definition of secondary or tertiary importance at best.
Still, the graphite sketch above, from Scarry's book, Nicky Goes To The Doctor, is pretty cool, and I'm not just saying that because it depicts the number of bandaids the kid goes through every day.
Richard Scarry, "Band Aids," 16x9.75", $2,400 [everypicture.com]
There Once Was A Bear Named Pierre [stork bites man]
Previously: haha, that guy wrote children's books?? Hilarious Richard Scarry bio