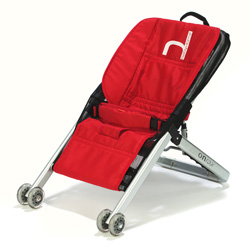 Via the blog of minor details, a newish "children's interior consulting firm" and "imagination agent" based in Brooklyn, comes word of Babyhome, a slick, euro-looking line of aluminum and tech fabric baby gear.
Babyhome is the creation of Barcelona-based industrial designer Marc Navarro, who you may know from such laptop bags as the Vax Guell. In the spirit of Bugaboo, Mutsy, and a pile of lightweight camping equipment, the Babyhome gear places an emphasis on the gear. This is aluminum as design and performance, not as dollar store cost-cutting.
Which is important if you're charging 295 euros for a Dream Minicot bassinet [which comes with convertible wheel, rocker, or stationary foot base attachments]. Or 100 euros for an Onfour Hammock on wheels.
Actually, that wheelie seat is kind of awesome, like the modern euro equivalent of a papoose or cradleboard, just without the forehead deformation. Slap a shoulder strap and a 5-point harness on that thing, and you could find yourself with a major, hip-supported paradigm shift in baby mobility. Maybe you could stash a laptop in the back, even? Hmm?
I can't find Babyhome distributed anywhere outside of its Catalan hometown at the moment, but that's fine when your hometown also has a rather excellent design store, like Vincon.
Babyhome Dream Minicot, EUR295 including VAT [vincon]
Babyhome Onfour hammock on wheels, EUR100 w/VAT [vincon]
Babyhome on Marc Navarro's portfolio site [readyfordesign.com]