Can someone please explain what's going on here? Are airlines actually paying attention to what their passengers and potential customers are saying? Are they actually updating their policies even as we type--and wait on hold for the next available agent with a question about strollers and car seats? Check this out:
In the month since I first checked, both United and Southwest have updated their published policies to make it clear that the CARES harness is an acceptable safety device for kids traveling with their own tickets.
And in a move that has me rubbing my eyes in disbelief and looking toward the North Pole for a maple leaf-covered sleigh, Air Canada has updated their "umbrella strollers only" gatecheck policy.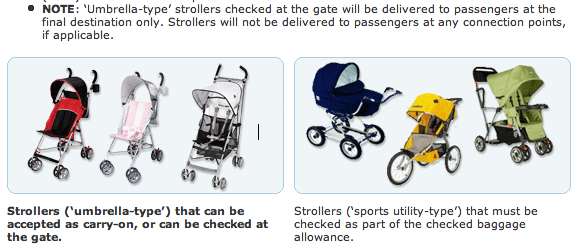 Now they only "strongly recommend the use of small umbrella-type strollers when traveling," and they point out, quite reasonably, that "Large, heavy strollers should be checked-in as part of your checked luggage, as gate facilities in airports are not designed to accommodate them."
Bugaboos to the Bugaboos! I think I'll just wheel this giant stroller to the gate for--
"Large strollers are subject to space limitations, and there is a risk that they cannot be accommodated in the aircraft."
Aha. So that's how it's gonna be. It's like Minnesota Nice, but for Canada. They're not our passive aggressive neighbors to the North for nothing! As they say in Canada, Bon voyage/Good voyage! [thx dt readers steve (sw) and melanie (ac) for the tips]
Previously: Who CARES?
Quirky 'Air Canada' has own umbrella stroller gatecheck policy, laws