<!form method="get" action="http://dt-go.com/cgi-bin/mt/mt-search.cgi"> <!input type="hidden" name="IncludeBlogs" value="3" /> <!input type="hidden" name="Template" value="daddy" /> <!input id="search" name="search" style="width: 270px; height: 15px;" /> <!input type="image" src="http://daddytypes.com/search.gif" height="18" width="159" border="0"> <!/form><!br />
Who CARES? The FAA's Car-Seats-On-Planes Policy Is A Total Train Wreck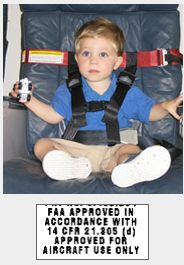 This is getting ridiculous. Though the FAA approved the CARES safety harness for use on planes more than two years ago, a quick look at eight major US carriers' stated policies on flying with kids found seven different, contradictory treatments. Checking six minor and regional carriers turned up four more different policies--plus a couple of blanks. [There's a summary of each carrier's policy, with direct links, after the jump.]
And as DT reader Darren recently found out--and as anyone who flies regularly suspected--that cranky, underpaid flight attendant with the Cheney Complex don't need no stinkin' FAA badges; it's her way or the highway, pal, and you'll definitely need a car seat then, because you'll be driving home for Christmas unless you do exactly what she says.
Which is actually how it's supposed to work, according to comments from Dave, an airline employee who says FAA approval of a device is superseded by airline approval--or prohibition--of a device. They only allow FAA-approved devices, and that means no harnesses, even the harness the FAA has approved for two years. Got it?
Great, because it turns out that in 2005, the whole FAA car seat regulation thing became actually more of a guideline, and the agency's attempt "to encourage families who fly to use child restraint systems... by amending its regulations permitting the use of alternative child restraint systems to improve safety" has instead created an inconsistent, contradictory mishmash of carrier-specific policies that, at best, leaves you carrying a giant car seat around the airport when you may not have to.
And why is that, exactly? Why did the FAA withdraw its rule that kids must use a safety restraint device? To make it safer for kids, naturally.
In August 2005, when the FAA announced that CARES was approved for use by airlines who wished to offer safety restraint devices to their passengers [none did], the agency also announced a change: "[the FAA] will not mandate the use of child safety seats on airplanes because of the increased safety risk to families." [emphasis added for jawdropping WTF-ness.]
"The agency said its analyses showed that, if forced to purchase an extra airline ticket, families might choose to drive, a statistically more dangerous way to travel." How much more dangerous is this car seat regulation, you ask?
...current FAA and NHTSA studies...show a mandate could result in another 13 to 42 added family member fatalities over 10 years in highway accidents.
That's right. Requiring child safety restraints on planes "could result in another" 1.3-4.2 traffic fatalities per year, nationwide.
After a year in which no US carrier offered CARES to car-seat schlepping passengers, the FAA authorized the harnesses for individual passenger purchase and use. [Incidentally, the CARES is not the first plane safety device the FAA has approved and the airlines have punted on: who can forget the Planeseat CRS-2000? Besides everyone, I mean.]
So not only are air carriers' policies no longer unified, or brought up-to-date with the latest FAA guidelines [sic], a closer reading of some airline policies make it sound like car seats are, in fact, optional. Confused yet?

Details are in the previous post, but here's a recap of the major US carriers' stated car seat/safety restraint policies in descending order of CARES-savviness.
American: promotes CARES on their site.

JetBlue and Delta: mention FAA-approved CARES by name.

United: just updated:prohibits specific kinds of non-CARES harnesses, and now mentions and approves CARES by name. Also, "You may use an approved infant car seat," not "must." But if you do, it "must" be FAA-approved.

NW: no policy, just a link to FAA.

Continental: "infant seats" required only for "children unable to sit upright with the seat belt fastened."

Southwest: mentions only "FAA-approved car seat," no "may" or "encourage" about it. this just in, 12/21: DT reader Steve points out that Southwest has updated their published child safety restraint policy to specifically include CARES. And the Century Breverra Booster Seat. Huh. Alright, then!

US Air: prohibits "Vest and harness type child restrains [sic] or belly belts"

Alaska Air: "Car Seats: Infants traveling on a regular fare are strongly recommended to be secured in an appropriate child restraint system," but only "federal motor vehicle safety standards"-compliant CRS's are allowed. Anything else is prohibited, "regardless of what stamp/seal of approval these booster or harness devices carry." [note: DT reader Debbie just flew Alaska, and all the flight attendants were stoked to see the new CARES, so go figure.]

Frontier Airlines: nothing. "We offer kid-friendly shows, DIRECTV®service, movies and Disney programming..."

Hawaiian Air: same as Alaska, only FMVSS-approved car seats. BUT, note the flip: "Aseat [sic] must be purchased for infants traveling in a child restraint seat," not the other way around.

USA 3000 Airlines, which I only know from their billboards on the New Jersey Turnpike, totally freelances their policy:
It is recommended that a child under 40lbs travel in a child restraint device (car seat)*.

*Many child safety seats that are designed for use in automobiles are also appropriate for use on aircraft. Appropriate devices should have hard sides and backs, include integrated shoulder straps, and secure to a passenger seat via channels through which the seatbelt is threaded and attached.
Virgin America, the newest airline in town, looks like it cut & pasted its policy from a less-than-up-to-date competitor:
Infants, other than lap children, must ride in an FAA approved Child Restraint System (CRTS), provided by the responsible guest.

Virgin America will accept approved infant/child restraint systems (car seats) when the accompanying adult has purchased aseat [sic] for the infant/child...

Child restraint systems must be approved for use on aircraft...

Unacceptable restraint systems:
* Unlabeled child safety seats or safety seats manufactured before January, 1981 cannot be used.
* Vest and harness type child restrains [hey, that's the same typo as USAir! -ed.] or belly belts cannot be used during taxi, takeoff or landing...

Child Restraint Systems are not required but Virgin America must allow their use when requested and provided by the child's parent or guardian and they have obtained a ticket for the extra seat required to accommodate the restraint system. Any child safety seat that has the correct labeling will be accepted for use on Virgin America provided the following procedures are followed...
I've asked Virgin for a clarification on their policy, and on their view of CARES. It goes without saying that you will want to call your airline before you fly, print out everything you can, and take every piece of safety equipment you own to the gate with you, along with some fine chocolates for the purser. See? It's easy!

Aug. 2005: FAA Announces Decision on Child Safety Seats [faa.gov]
Sep. 2006: FAA Approves New Child Safety Device [faa.gov]
posted December 19, 2007 3:37 PM | add to del.icio.us | digg this
<!something is wrong with my adserver, so until I fix it, no ads>