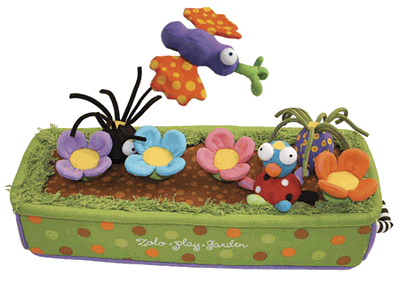 I haven't gotten all holiday this and gift list that this year; a lot of blogs are cranking out a lot of shopping lists, and I hope they make a lot of money doing it.
The kid, though, is making her list, and though we've checked it several times, one item on it has us stumped. She wants a garden, but not a real garden. She wants "a plastic garden with pretend flowers and trees and plastic dirt."
Half of me wants to get a wooden garden, and half of me wants to get a plush/stuffed/cloth garden, and none of me wants to get a plastic anything. That said, the closest I can find so far is on DT advertiser Sparkability's site, a magnetic, stacking Play Garden, which looks a little too zany to me. Plus, it's $74, which seems pricey. Damn that euro exchange rate...
Any other ideas out there, short of a trip to Michael's? I'd like to think it'd be another 80 years at least before the kid started arranging silk flowers.
Play Garden, $74 [sparkability]