<!form method="get" action="http://dt-go.com/cgi-bin/mt/mt-search.cgi"> <!input type="hidden" name="IncludeBlogs" value="3" /> <!input type="hidden" name="Template" value="daddy" /> <!input id="search" name="search" style="width: 270px; height: 15px;" /> <!input type="image" src="http://daddytypes.com/search.gif" height="18" width="159" border="0"> <!/form><!br />
December 13, 2007
"The Spectre Of Roaming, Near-Feral Children"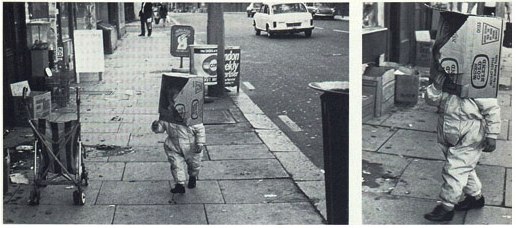 Colin Ward? Graham Greene? Adventure playgrounds? creeped out West Village parents? There are like five things I want to link to in it, so instead, I'll just say click over right now to Things Magazine's thoughtful essaypost about how different our notions of carefree childhood are today.
I swear, it's not just an excuse to post this picture of a toddler walking down a British street with a box on his head.
image: from Colin Ward's The Child In The City, 1977, via Things Magazine]
posted December 13, 2007 10:50 AM | add to del.icio.us | digg this
<!something is wrong with my adserver, so until I fix it, no ads>