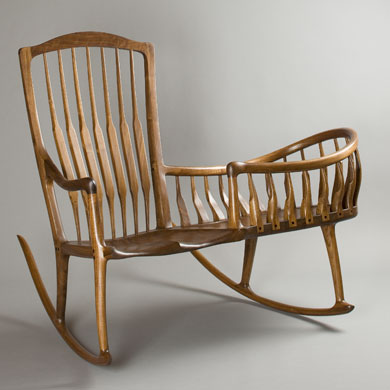 Master craftsman Scott Morrison describes his awesome Rocker Cradle this way:
Here I updated a 1700's stlye Windsor Nanny Rocker using Sam Maloof's Classic Rocking Chair design as a basis. I wanted to add interest by creating different shapes for the cradle's base and its rail. That is, the rail follows the shape of the base (as seen from above) as well as having a shape of its own moving up and down (as seen from the front). A unique side-effect and challenge of this design would then be to create spindles that would connect the asymmetrical shapes of the base and the rail.

The spindles must therefore be duplicated in a uniform manner along the cradle base, while also being dynamically sized to accommodate the bi-directional flow of the rail.
Translation: I didn't just pull the $10-12,000 price tag out of the air, you know.
Now about these 18th century Windsor-style Nanny Rockers. Turns out prices and styles vary in ways I can't readily discern!
This one from New Hampshire craftsman Charles Mower has a movable bracket.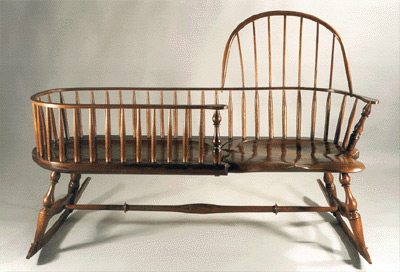 Peter Wallace's sack-back nanny rocker is $3,475 in cherry or $2,200 painted.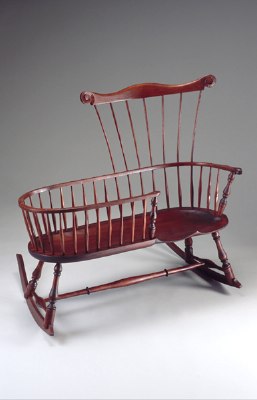 The Colonial Chair Co.'s comb-back nanny rocker goes for $1,795.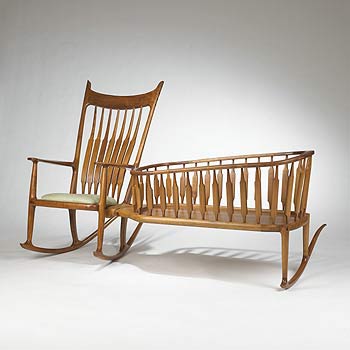 Any way you slice it, these handcrafted pieces of furniture become heirlooms to be passed on to future generations. Which is a much nicer way of saying, "You may have to wait a hundred years to get your money back when you sell." John Goff's 1985 Maloofian/Seussian walnut convertible nanny rocker--the cradle pops off and can stand alone--apparently didn't make the $3-4,000 estimate at auction a couple of years ago.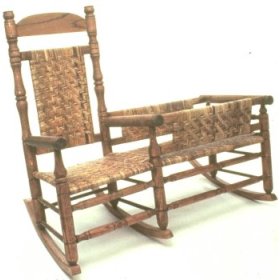 If you've got the tools and the time, you can build one yourself. Greg Harkin's Nanny Rocker plans don't look especially Windsor, though he gets points for mentioning the existence of a Shaker version.
I can't find a single picture of an actual antique nanny rocker, though. Maybe I'm not looking in the right Maine Antiques Digest... [Scott Morrison's Rocker Cradle via yokiddo]
Previously: And here I thought that all the nanny rockers were wicker, like Rosemary's Berceuse and the Re-Tire/Re-Babe