<!form method="get" action="http://dt-go.com/cgi-bin/mt/mt-search.cgi"> <!input type="hidden" name="IncludeBlogs" value="3" /> <!input type="hidden" name="Template" value="daddy" /> <!input id="search" name="search" style="width: 270px; height: 15px;" /> <!input type="image" src="http://daddytypes.com/search.gif" height="18" width="159" border="0"> <!/form><!br />
Quirky 'Air Canada' Has Own Umbrella Stroller-Only Gatecheck Policy, Laws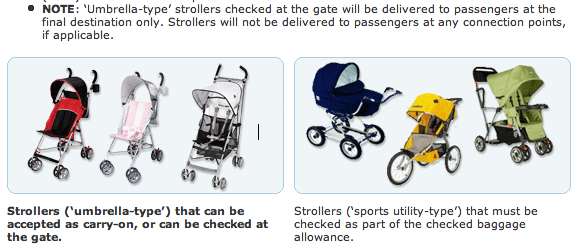 Wow, if you're flying on Air Canada anytime soon, heads up. It's apparently not enough to have two separate official languages; in order to make clear that they're an airline from an entirely other country, Air Canada has its own wackycrazyhippie stroller policy:
You can only gatecheck vertically folding umbrella strollers. Any horizontally folding, "'sports utility-type'" strollers must be checked in with your luggage. Also, if they fold to less than 92 cm/36 in. and 25cm/10 in., you can carry them on the plane as part of the kid's carry-on allowance. Also, if you check a stroller, it counts as part of the kid's baggage allowance. I know, right? Cra-zy.
Personally, I blame the thousands of Chariot Cougar drivers in Vancouver, wheeling up to the plane in their giant podmobiles. That, or Dorel's main Ottawanian lobbyist also designed the Quinny Zapp. Next thing you know, they'll be telling me it's not a sofa, and it's not pronounced 'zee'.
On the off chance you Canadian Bugaboogers can't gatecheck the base and take just the carseat on board, I happen to know where you can get a great deal on a Bugaboo Travel Bag...
Stroller Policy [aircanada.ca via dt reader melanie]
posted December 12, 2007 1:58 PM | add to del.icio.us | digg this
<!something is wrong with my adserver, so until I fix it, no ads>