The "If 4 is the new 3, can 5 be the new 4?" baby naming discussion reminded me of a character in Peanuts, 5.
I always thought it was just 5, according to his Wikipedia page, his full name is 555 95472 [accent on the 4]. The numbers come from the phone number of everyone on TV, and the zip code of Charles Schultz's home in Sepastopol, CA. He has twin sisters, 3 and 4, which presumably makes his parents 1 and 2:
As 5 once explained to Charlie Brown, his father, morose and hysterical over the preponderance of numbers in people's lives, had changed all of the family's names to numbers. Asked by Lucy van Pelt if it was Mr. 95472's way of protesting, 5 replied that this was actually his father's way of "giving in."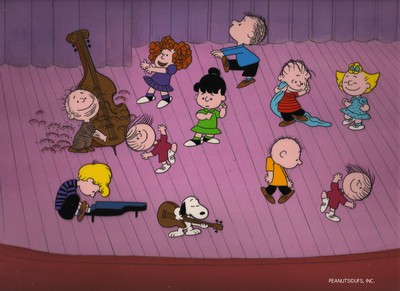 What I did not realize was that 5 is the kid doing that dance center stage in A Charlie Brown Christmas [you know the one], and that his sisters are the identical go-go girls on either side of him.
For some reason, Peanuts feels like it's off the cultural radar; is it just "they don't make'em like they used to" crankiness, or is Charlie Brown vastly superior to whatever child-friendly character dominates the brainwaves these days? I suddenly want to watch A Charlie Brown Christmas with the kid, but ABC already broadcast it. I guess I'll buy the 2000 edition of the DVD. Oh wait, it's on YouTube, too.
555 95472 [wikipedia]
image: "Quiet on the Set" a limited edition lithograph from Sopwith Productions. Bill Melendez animated the Peanuts TV shows. [sopwithproductions.com]