Apparently the pinnacle of mod Olympic graphic design was reached in 1972 for the Munich summer games. The logos, signs, marketing, and mascots--everything down to and including the souvenirs--represented a triumph of the will, so to speak, of Otl Aicher [Otl, really? A variation of Otto, apparently. Interesting. -ed.], who envisioned the Olympics as a sign of Germany's rehabilitation since the last time the country hosted the games, and whose "Rainbow Games" palette deliberately omitted red and black. [During WWII, Aicher refused to join the Hitler Youth, and had friends who were executed for anti-Nazi activities.]
Anyway, earlier this year, Creative Review wrote about an Aicher/Munich exhibition, and one of his former colleagues had this to say about the rather awesome-looking Waldi, the Olympic mascot, which may have been designed by Braun designer Dieter Rams:
No marketing! The thing Aicher was really interested in, in the whole of the Olympics, aside from the products we see here, was the souvenirs. He said we must get control of these souvenirs – so that was the big problem; how to structure them so that there wasn't all the usual kitsch coming out. The mascot, Waldi, is very typical design approach and there's even a cuddly toy version! But you remember those Bauhaus toys? Well that's the link through again.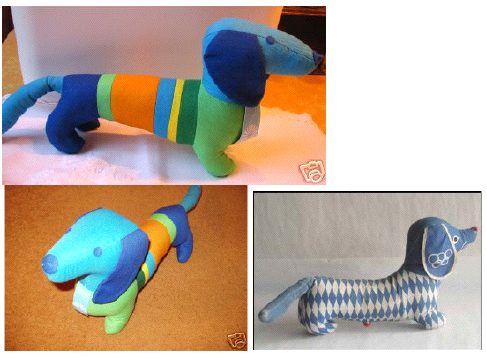 I don't find a wooden Bauhaus version, but there are a bunch of stuffed Waldi toys in eBay, ranging from playable $10-20 to collectible $100 versions with the tags still attached. [That blue diamond Waldi doesn't have mastitis, btw; those are dials for the radio in his belly.]
Check out Creative Review's review of the creative for the 72 Games [creativereview.co.uk]
Search for Waldi the old Olympic mascot stuff on eBay [ebay]