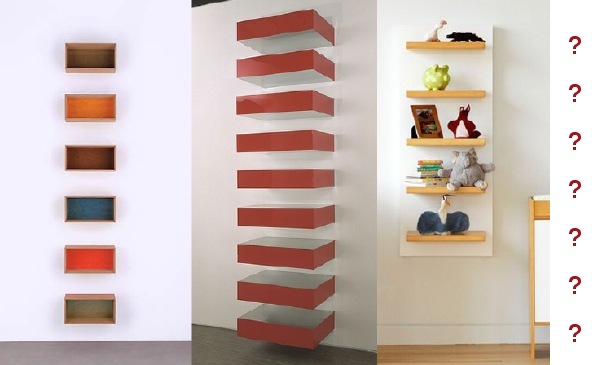 So the other kid's crib, which was originally going to be the kid's toddler bed, is inching toward conversion, and you must admit, it is rather Juddish.
Given the crib and the overall minimalist [as in art] vibe, I have Judd on the brain, and the one last piece I have convinced myself we need is a stack of shelves floating on the wall, to hold books and toys.
The obvious solution--install an actual Judd stack sculpture--would destroy my reputation, such as it is, among the art conservation community for abusing a work of art in that way. ["You have to admit, it is rather shelfish."] Also, I think those things are like $7 million now. So that's out.
One possible option would be a series of nice, deep, but light rectangular boxes 30-36" wide, is similar to an unusual stack the Judd Estate sold last year [Should've bought then, when they were only $2.7mm. Damn!].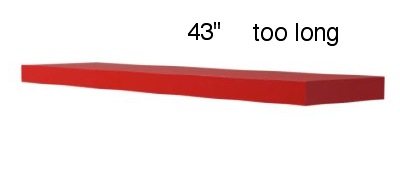 But I'm thinking of more traditional Judd boxes: thicker, shorter, deeper versions of Ikea's Lack shelves. Like David Netto's CUB Stacker shelf unit, only bigger and more useful. If I were to use Judd boxes, I'd take out the top plexiglass, so that books wouldn't fall off of them when the wind blew.
Any ideas? Because frankly, I'm stumped, and if I don't figure it out soon, we'll end up sticking ye random shelving unit in there. I'd love to just hang stuff rather than build; I've got projects enough to last me until the kids go to college right now.
Are there squared off planter boxes or trays of some kind that I can float on the wall? Do I pull a Netto and build the whole thing on a door painted to match the wall? It'll be in a corner with no traffic, so the "kid brains self on sharp corner" issue worries me less than the "kid pulls self up, over-cantilevered shelf down" jury-rigging issue. Your advice, suggestions, and/or reality check are greatly appreciated.
CUB Stacker, solid white or mixed finish, $315 [cubkids.com]
update: Here are some things I've been looking at, actually, after remembering that we bought our changing table at Harbor Freight: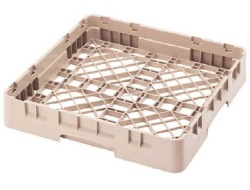 Cantilevered square tubular aluminum restaurant shelves: Not floating off the wall, admittedly, but still a very clean profile. Weird, I know, but the kid loves the aluminum dunnage racks which she first found at Five Guys hamburgers in DC; it's what they use to store the peanuts. A five-shelf set [4+1] seems like it'd run about $400. Getting it anodized red to match the changing cart? Who knows, another hundred or two?
Then I saw this dish rack, 20-inches square, 5-in. deep, which I could easily drill and bolt to a door or sheet of plywood. It wouldn't hold 900 lbs/shelf like the ones above, but they come in red, cranberry, navy, a whole range of colors, actually. And they're cheap: under $100 for a 5-pack. They remind me of an incredible sculpture by Tony Feher, an 8-ft, red cube made entirely out of Coca-Cola 2-liter crates [with the logos buffed off. He even showed a giant crate wedge at Judd's Chinati Foundation last year. Sweet.] They also remind me of my first job in high school, as a fry cook at Swensen's.
Ooh, then I started looking at milk crates, which are just the tip of the agricultural, grocery, dairy, and food services crating industry iceberg. Rehrig Pacific, who invented the milk crate, also makes bread and confection trays, RPC's [reusable plastic crates], banana crates [!?]... Bolted bottom down to a sheet of plywood, those L19 x H13 rectangular milk crates would get pretty close to the feel of that wood Judd stack. But they're a little short. Those L24 x W20 bread trays would probably need a bracket underneath to support that 20-inch cantilever.