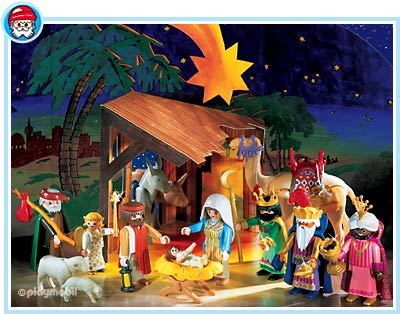 I don't know why Playmobil can still surprise me with the exhaustiveness of their playsets.
The Playmobil Nativity Set's not even new; it's been around since at least 2003 [that's the date of the first Amazon review, anyway.] Though I'm pleased and slightly disturbed by these, I'd be stoked to see someone else's religious traditions turned into plastic toys: say, the Hindi pantheon, or Buddha's enlightenment, or maybe the coronation ceremony of the Dalai Lama [how sweet would a Playmobil/Scorsese's Kundun mashup be?] Then let's see the Playmobil Amish barnraising, or the Playmobil assault on Masada? A Playmobil Zen monastery?
For the moment, at least, the real world is once again larger than its relentlessly smiley, claw-handed simulacrum.
Buy a Playmobil Nativity Set, #5719, pronto. $29 or $18, huh? [amazon]
There's also a Playmobil Noah's Ark, #3255. Wow, it's huge. $74 [amazon]