Alright, now that DT reader Rebekah has revealed the secret handshake for accessing the Beinecke Library's children's book collection online [search for "Shirley"], I may have to clear the calendar of any actually useful tasks and posts.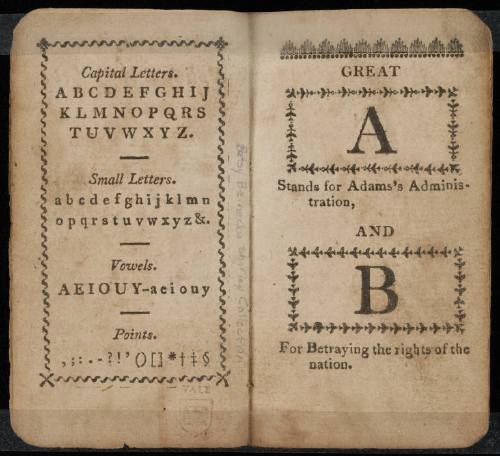 Check out the 1813 masterpiece of blatantly polemic ABC books, New political alphabet, or, A little book for great boys : ornamented with engravings.
Sort of a Help, Mom! There Are Federalists Under My Bed! of the day, the New Political Alphabet was written by an unidentified John Adams critic with a grudge [it came out 12 years after Adams left office, and long after Jefferson had reversed Adams's controversial Alien & Sedition Acts, which made criticizing the government a crime punishable by deportation].
See images and a slideshow of New political alphabet, or, A little book for great boys : ornamented with engravings, 1813, printed by Samuel Webb, Windham CT [beinecke.library.yale.edu]