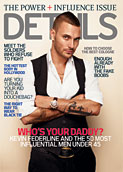 I can't believe I ever actually wrote for a Conde Nast magazine. And not just once, either, repeatedly. What an embarrassment. The title of one of the cover stories in this month's issue of Details magazine caught my attention, just as it was designed to do: "Are You Raising A Douchebag?"
Surprising no one, this flamebaiting article consists of a near-random list of f'r instances, hyperbolic hypotheticals--and lifestyle tips from Conde Nast magazines. If this is some freelancer's stealth idea of Conde-jamming, like how I once brought an editorial meeting to a dead stop by trying to include a mention of owner S.I. Newhouse's art purchases in an article, then I heartily approve. Unfortunately, I think I have to take the Style.com section hed at face value--
Looking for stories with an edge? Welcome to Details' forum for the controversial, the opinionated, and, yes, the provocative. If you have a reaction, well, that's the whole idea.
--and assume that these potential signs of junior douchebaggery don't serve any purpose beyond spasmodically pushing every conceivable button, like a shivering crackhead pounding the intercom in hopes that someone will buzz him into the heated lobby for the night.
Still, I've extracted the "data," 32 specific [sic] douchebag infractions, after the jump. Maybe throwing some analysis at it will help tease out some actual insights into a parenting situation I suspect is either flat-out obvious, entirely fabricated, or some combination of the two: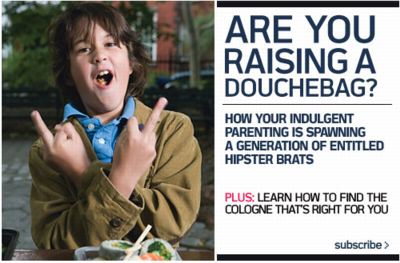 The Data: I identified 32 examples within the article, which I have grouped according to issue. Though a few signs of douchebaggery sound made up, and several are easily refutable [What kid doesn't have an opinion about a shark in a tank? What kid orders foie gras in the first place?], I excluded just one, "Likes parents," because a) it came from an actual expert [a child psychologist], who b) lives in Dayton, Ohio, a flyover town in a flyover state:
Art Issues [2]
opines about Damien Hirst
"fancies" himself collector of "highly coveted art"
80's Music Issues [2]
can tell Joey and Dee Dee apart
appreciates Roxy Music just like us

Service Industry Issues [2]
has a nanny trained in CPR
belongs to Citi-Babes

Gear Issues [3]
gets pushed around in a Bugaboo By
has his own moon bounce
learns to text message

Birthday Party Issues [4]
gets driven in limo to recording studio at birthday party
gets playtime with real tiger cub at birthday party
gets Criss Angel booked for fifth birthday party
says a friend's party was "unbelievably lame"

Fashion Issues [4]
wears Sex Pistol T-shirts
is bought a $400 Little Marc cashmere hoodie on the recommendation of a baby magazine
has his diapers carried in a Louis Vuitton bag
dresses...just like us

Food Issues [5]
eats sushi
demands heirloom tomatoes
asks how the branzino is prepared
sends back foie gras
chooses your weekend brunch spot

Behavioral Issues [9]
terrorizes peers for not wearing Junior Dolce & Gabbana
parties with parents like Paris, Lindsay and Britney do
flips the bird
thinks "it's weird" that someone else is flying first class
develops some serious entitlement issues
incessantly talks back
vocabulary is limited to "Shut up! Shut up! Shut up! Shut up!"
speaks...just like us
reminds you in no uncertain terms of...you

The Takeaway: Setting aside the things that aren't actually douchey--knowing the Ramones, eating sushi, having a qualified caregiver--the majority of the warning signs turn out to be either solely parental or beyond a kid's control. The major issue is not "indulgent parenting," but the parents' own negative behavior, speech, and outlook which the kids pick up on. If your kid is a rude, selfish, insecure, materialistic, status-obsessed douchebag, it's because you are, too.
Wow, I stand corrected; this is a groundbreaking discovery of major importance to douchebag parents everywhere, a population which apparently includes readers of Details, Vanity Fair, and Cookie.
Are You Raising A Douchebag? [men.style.com via the magazine's editors]