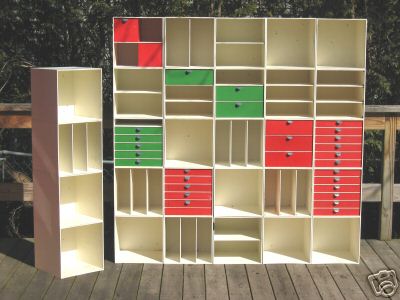 While the room itself is bigger, the closet in the kids' room is much smaller than in the kid's old room. So we need to get some actual storage furniture to hold their clothes.
I really like the idea of modular storage rather than a dresser. The room's red, chrome, and birch ply furniture--the kid's bed, the some-day-soon-it'll-have-to-be-finished-or-else Juddy crib, the red enamel tool cart/changing table, the handprint playtable from the kid's school auction--is not a matched set with an obvious dresser option. But the real hesitation is the flexibility; modules can be easily reconfigured and added to whenever the exact space we need to fill happens to be something other than 40 inches between two doors, but a 30-inch dresser, that's forever.
The idea for sweet, resilient modmodularity probably lodged in my head after seeing the giant set of vintage Palaset storage cubes [above] get away from me on eBay last spring. [It's also depressing to find oneself as the top Google search result for something about which one knows jack.]
There are several options under consideration, and the suggestion/feedback box is open:

First up--and not just because they were an early Daddy Types advertiser--is the Via Toy Box system, which offers 15-inch birch ply cubes in an endlessly customizable variety of stacks, colors, and boxfronts. There's a sale on six-packs right now [cubes are $59/each, tops and bases are comparable], and half-price shipping, so a set like Kaz built for his Big Girl's room would be about $100 cheaper than MSRP. Via Toy Box even sends you an Allen wrench drill bit to help speed the assembly along, so the only immediately obvious downside--the kiddie palette doesn't bother me, because there's red and natural finish available, too--is that once again, I'm just tagging along, wanting to be like Kaz. Maybe I just stop fighting it and move on.
Actually, the first thing I wanted was a truckload of these Converse fixtures from Gap Kids. Hello, how awesome are these? They're 1/2-inch plywood with black laminate on the outside. My crappy stealth photograph does not do the CONVERSE stencil justice. But it's alright, because budget store shelves with a shelf life of 1-2 seasons doesn't really meet the keep&reconfigure it forever ethos of modular furniture anyway. [Still, if you work at Gap Kids and see these going out on your store's loading dock, T-E-X-T M-E.] Also, yeah, that's the kid in the background. When you get a jacket that's reversible to pink, don't fool yourself: it will be reversed to pink.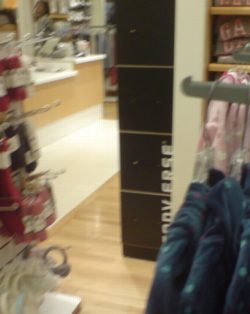 P'kolino also makes storage cube sets, though theirs are totally different, because they're spelled with a 'K'. Also, they're 16", come in a set set, and include two sweet cube-shaped drawers. Like Via Toy Box, there's also a shelf/tabletop option. And while the two color options--blue and orange--might not work for us, they have natural finish, too. I'd love to be able to buy individual cubes, since we need six, not four. Whether it's the retail network, or the size and the drawers, the P'kolino Storage Kubes are a little more expensive than the Via Toy Box sets, $465. They're available [with 6-8wk lead time, I'd better decide quick] at DT advertiser Sparkability.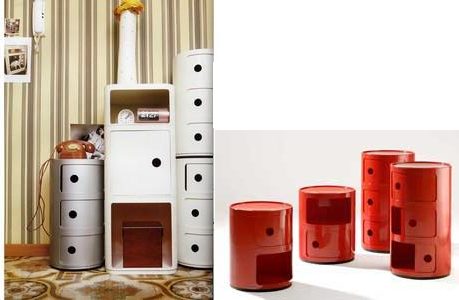 The Tetris shelf units are awesome, of course, but we're looking for something that closes and looks a bit neater. Trying to think outside the box a bit, I remembered the night stands of my youth, Anna Castelli Ferrieri's classic, futuristic stacking Componibili units for Kartell. They're small--the 2- and 3-level components are only 12.5-in. diameter, though the single stacker units are 16.5 inches--and short. To get to any significant height or storage volume, it seems like you'd need a lot, and the costs start to add up [especially if you get the limited edition red or silver models, which have some kind of silvery surcharge.]
But they're light and kind of unusual in a nursery, so if I can pick up some nice vintage ones that don't involve more plastic production, I'm inclined to go with the Kartell.
Some options dutifully considered as a last, cheap resort:
those Ikea Trofast bin storage things. [Please save me.]
Some options not considered:
plastic milk crates
anything from The Container Store
Am I missing anything great? Any advice on these options that could make the decision easier?