H is for Holy Crap, we're gonna have another kid in a few weeks. My wife's now solidly in the Alien stage, where you can see her belly writhing from across the room. Superficially speaking, we're ready for the new kid [f/k/a the other kid, f/k/a kid2.0, f/k/a a wild weekend at Mohegan Sun while the kid visited grandma]. But as the boxes clear from our DC move a couple of weeks ago, the rather large list of to-do's is looking, well, rather larger than I thought.
So in a radical editorial shift, the posts here on Daddy Types will include a bit less shoppertainment and a bit more actual accounts of doing stuff. This is not a drill.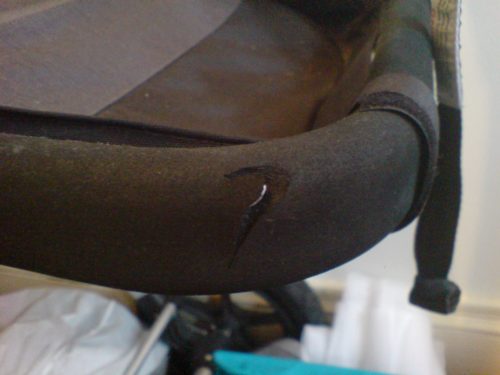 First up: fixing the Cameleon, which, in accordance with our ancient family tradition, will be the new kid's bassinet for the first few weeks.
Within a few days of leaving the box, the Bugaboo bumped into something, and the foam covering tore on the lower corner, right by the kid's feet. The position and angle of the tear make it invisible in daily use, which is partly why I never did anything about it. [Also, it felt really high maintenance to send back an entire seat assembly in order to fix a tiny, fingernail-sized tear. Also, though I'm sure Bugaboo doesn't dump their old parts into the wetlands habitat of endangered plovers, it kind of felt environmentally insensitive, too. Damn you, Al Gore!]
Almost two years on, of course, it now looks like the foam has split some more. What should I do? Glue and stabilize it? Fill it somehow? Replace it? Leave it? I should say we're considering selling the Cameleon and going back to our OG Frog. Should I replace it, then sell it? Sell it as is? To you experienced pre-owned Bugaboo buyers out there, is this no big deal, or is it exactly the kind of dealbreaking ghetto detail you look for?