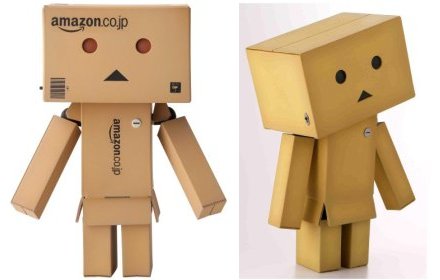 I tell you, you gotta watch out for the robots, they're turning up everywhere.
This toy cardboard robot named Danbo was commissioned by Amazon Japan from Azuma Kiyohiko, the creator of the manga character Yotsuba-chan who lives with her adoptive work-at-home dad, and whose happy-go-lucky adventures are recounted in the popular serial, Yotsubato/Yotsuba&___. [You can read Chapter 28, Yotsuba to Danbo in English. Remember, it goes right to left.]
If either the original or Amazon versions of Danbo were actually made of cardboard instead of PVC vinyl, or were actually bigger than 13cm, I'd be kind of pissed that Amazon won't ship these things outside of Japan. But if I were a Yotsuba-loving dad, I'd just wait until Boxing Day and make a kid-sized one the old-fashioned way.
The original Danbo you can't buy is 1,561 yen, and the Amazon version you can't buy is 2,200 [amazon.co.jp via boingboing gadgets]