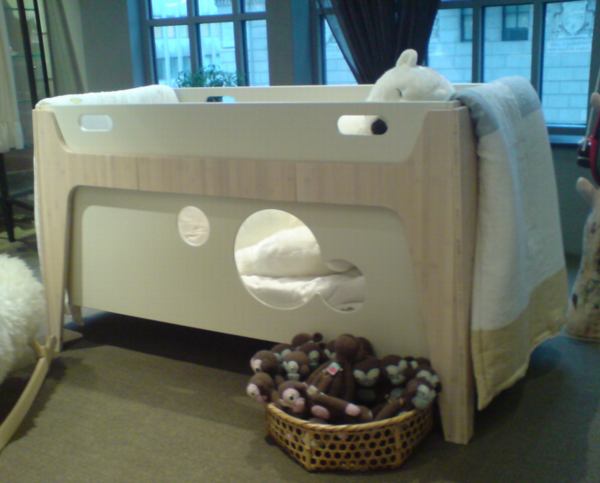 When the in-laws were singing the praises of Takashima-ya's new baby boutique, they kept coming back to the crib. It has these wonderful Plexiglass portholes, said my father-in-law, are you sure you don't need it?
Sure enough, it was the bamboo laminate crib from the French firm Castor & Chouca that, when I started looking for bamboo cribs in 2005, was the only bamboo crib in the entire bamboo crib market. [Since then, of course, Celery has launched some fine bamboo ply designs as well.]

Castor & Chouca's designs are modularized miracles produced locally in France using eco-friendly materials and techniques. Thanks to width and length extenders that work like dining table leaves, the 1,2,3 Soleil bed converts from a bassinet or changing table to a crib, then to a toddler bed or daybed, then to a writing desk.

There's a changing table platform and a Plexiglass bassinet to purchase separately, but otherwise, the pieces and the memory foam mattresses are all included. There's a little wheeled platform to turn the bassinet into a wagon. Basically, you'll be converting the C&C furniture from one use to another even after you've paid it off on your cred it card.
In going after the most rarefied end of the crib market, the company's pursuing extremely limited distribution; Takashima-ya is the only retailer in the US at the moment. And they have stuff in stock. So yeah, crib that ships tomorrow and lasts forever, from just $2,675, or about 1.5 Ooba Units, comparably equipped.

Castor & Chouca, Paris [castor-chouca.com]