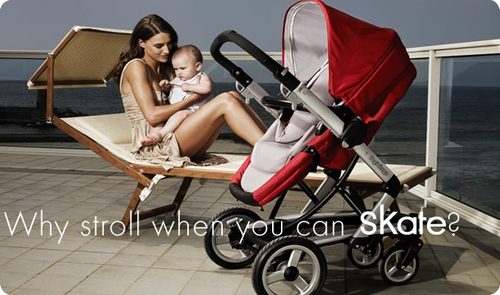 Whenever I see a Peg Perego stroller on the street, I say to myself, "Gee, I haven't written anything about them lately and/or ever. I wonder if they'll ever snap out of that traditional pram-like legacy design funk they're in?"
And now Peg has done it; they've broken the mold with the Skate, a thoroughly innovative, paradigm-shifting, never-before-seen structurally daring desi--oh, wait, they just painted the underseat frame black.
Also, this fabulously chic, fashionable stroller is only available on Paradise Island:
Why stroll when you can Skate?
Mothers know that it takes a lot to care for baby, and Peg Perego wants to make it easier, smarter and more stylish!
The new Peg Perego Skate is as practical as it is fashionable. With two-in-one versatility, Skate effortlessly transforms from a carriage to a stroller. Whether you're exploring the neighborhood or strolling about town, Skate is the perfect way to transport baby and look fabulous while doing it, thanks to its amazingly chic design and fashionable collections!
Hmm. Makes me feel better about ignoring them back.
Uh, maybe because I don't have a uterus? Why Stroll When You Can Skate? [pegperegoskate.com]