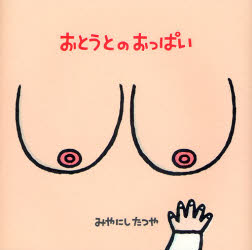 I hate to judge a book by its cover, but even though I can't find any information on the just released Otouto no Oppai, I think I have an idea of what it's about. [The artist/author is Miyanishi Tatsuya, who's My Father Is Ultraman series of children's books is, if slightly confoundingly Japanese, rather awesome.]
But first the title, My Little Brother's Boobs, which is firm and voluptuous enough for several books on its own: So the older kid doesn't know those were once "his" boobs? Is this how sibling rivalry starts, by not sharing the family boobs? And anyway, aren't they Mom's boobs? Or since it's Japan, one of the most sexist countries in the non-Sharia world, maybe they're Dad's boobs?
Now about the cover: whether he intended it or not, Miyanishi has crystallized the complex totality of man's reason for living into a single picture. Or if not the totality, at least the junior high school years.
Buy Miyanishi Tatsuya's Ototo no Oppai at Amazon Japan, then tell us what it's about. [amazon.co.jp]
Previously: Daddy is Ultraman, and how