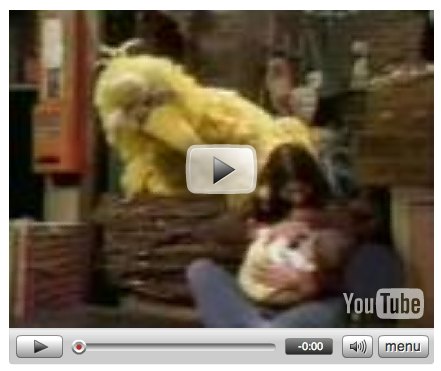 Well, I guess one single 1970's mention of breastfeeding on Sesame Street is one too many for today's merch-pushing execs, at least when it turns back up on YouTube.
After receiving over 50,000 views in the last few weeks, the 1976-ish clip of Buffy Sainte-Marie nursing her infant son Dakota "Cody" Starblanket Wolfchild [so great] has been removed from YouTube for "terms of use violation." As dt commenter sheluv notes, "14,000 clips tagged 'sesame street' remain on the site."
The TOU violation's not the same as the notice whens something is removed by a request from the copyright holder, though, so something odd may be going on here. Still, Sainte-Marie's breast deserves its place in history back.
Previously: Wha?? They said 'breast' on Sesame Street?
update: The now-suspended YouTube user who posted it, nantoreturns, is a longtime collector and source of vintage Sesame Street clips. Another OG clipmaster, mstatz, is still up and running. But who knows, maybe The Street's lawyerly crew is rallying at Hooper's Store this very minute.