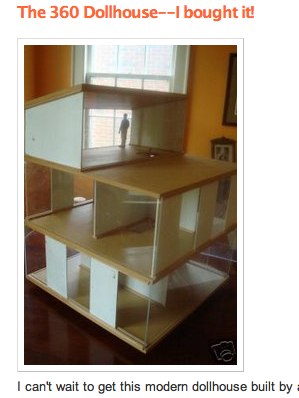 Q: Is the obsession with mini-sized modernism that leads someone to pay $790 for a sweet-yet-anonymous, architect-made, Plexi-on-a-lazy-susan, modernist dollhouse on eBay the same kind that leads someone to create a blog devoted exclusively to modernist dollhouses?
A: Yep.
Shh, I think s/he spotted us.
The 360 Dollhouse - I Bought It! [minimodern via andy]
See also: Old Modern Dollhouses that got away; Puppenhaus Museum - German dollhouses of the 50's & 60's; &c., &c., &c.
Previously: Patented Modernist Dollhouses