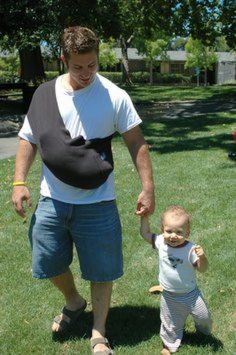 So for The Other Kid, I'm really considering trying a sling. We have our Bjorn as a safety, but if there's a clean-enough, unfussy-enough, functionally excellent sling out there to try, I'd love to hear about it.
[I don't care how many Guatemalan villages it lifts from poverty; there is no way I'm gonna wear one of those 20-ft long sashes that involve either D-rings or extensive criss-crossed bodywrapping.]
One of the possibilities I'm looking at is the Peanut Shell, which comes in a whole host of girly fabrics, a couple of solids, and in black microfleece. I like how streamlined it looks on. It's almost like, "wait, there's a kid in there?" thin. Also, it's called the Suspicion, which is about as far from hand-dyed hemp batik as a sling can get. Their publicists recommend it very highly.
I'm not a Pavement fan, so I think the appeal of the New Native carrier has nothing to do with Stephen Malkmus, and just with the fact that it doesn't appear too bulky or padded in this picture.
The Kangaroo Korner is clean, but it also seems kind of wide on the shoulder part, even wider than the Peanut.
Has anyone tried either the Peanut or the New Native? Are there other clean, well-functioning sling things that are worth a look?
Suspicion (black micro), $49 [goo-ga.com]
New Native cotton baby carrier, $44 [newnativeinc.com]
Previously: Dude buys the only 'non-girly' sling on Etsy
Does this baby carrier make my manboobs look fat?