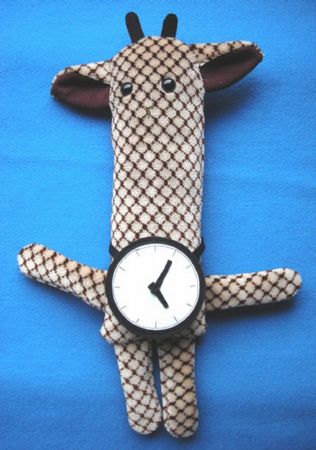 I saw the real Flavor Flav bustin' around somewhere recently, wearing that damn clock, and just waiting to collect his check. Man deserves to make a living, don't get me wrong, but it just seemed a little sad that he has to turn into a caricatured version of himself to do it.
A stuffed giraffe made from vintage upholstery fabric who wears a giant vinyl clock around his neck 24/7, on the other hand, that is dope. Cracks me up.
Odkins are made in Squamish, which is either in Washington state, or is in the same slightly too twee imaginationland where all the characters' names and oversharing backstories come from.
Not to bag on Odkins or anything, but the elaborate fictionalizing behind so many indie plush & vinyl toys is really spiraling out of control. What started with little fortune-cookie-sized writeups on Ugly Doll labels is now a jumbled universe of contradictory story lines; I mean, is anyone thinking about continuity here, people? Just look at how much energy is expended debating the implications of Han shooting first, or the pain and betrayal felt by kids--now grown--who were raised by the original Elmo, the one with a personality. Now multiply that by two million [the number of MFA students who bought sewing machines this year.] That's a lot of posses out there, you know what I'm saying?
How about a plush toy with a whiff of mystery about it? Just enough info to let the kid make up her own stories, hmm? Try that. Though the instant appeal of a Flava Flav giraffe is hard to resist...
Flava Flav Giraffe, $34 at Odkins' Etsy Shop [etsy via grassroots modern]