So far, the most chilling words to come out of the kid's mouth are "No, I learned it on [insert TV show name here]," as in:
"And Daddy, dogs are hunters by nature."

"REALLY. Did you talk about that at school?"

"No, I learned it on Zoboomafoo."
The kid does not watch TV every day, or even much at all, and yet she picks up more stuff than a Swiffer at a cat show. As a result of watching
Yo Gabba Gabba!
on Nickelodeon, though, she has begun seeing commercials targeted at her. [Thanks to PBS Sprout, she did learn to say, "If you have problems with credit card debt, call the number on your screen." several months ago. We took a Sprout break for a while after that.]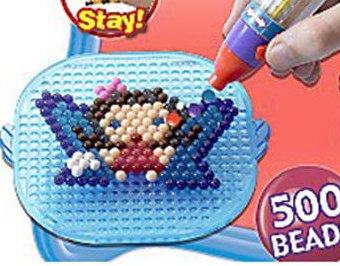 Now it turns out one of the products she schooled me on, Aqua Dots, which are far superior to beads and Elmer's glue for making a tacky plastic mosaic, are being recalled in Australia, where they're sold as Bindeez, because they contain GHB, a powerful anesthetic and rave drug.
Suh-weet. I'm sure if there were a problem with the US toys [which are made in Hong Kong], the CPSC would tell us. Assuming the agency's lone toy tester doesn't have to pick his mother-in-law up at the airport or something.
Bindeez Toys Recalled Over Drug Fears [news.com.au]
Popular Australian Toy Filled With GHB [consumerist]