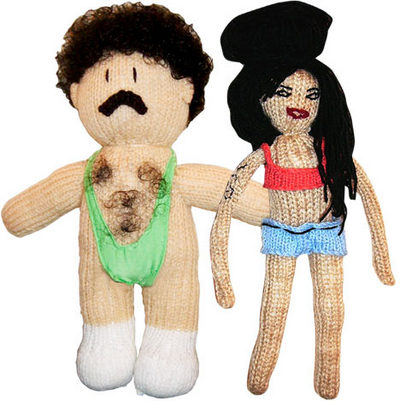 Alright, I notice there is no comprehensive list of all 25 celebrity doll patterns in Carol Meldrum's book, Knitted Icons: 25 Celebrity Doll Patterns. So I've compiled what I can from the various write-ups, which only make me wonder why people leave out the ones they do.
Marilyn Monroe
King Kong
Chairman Mao
Jailhouse Rock-era Elvis
Gandhi
Fat, Jumpsuit-era Elvis
Queen Elizabeth II
Blonde Ambition-era Madonna
Bob Marley
Mr. T
Bruce Lee
Che Guevara
Audrey Hepburn/Holly Golightly
Jacqueline Onassis
Sgt Pepper-era Beatles [that might count as four]
Sacha Baron Cohen/Borat
Amy Winehouse
Hmm. That's twenty, and we're already to Amy Winehouse? I guess this title works better than 20 Celebrity Doll Patterns, Plus 5 Patterns Of Runners Up On UK Big Brother. Though frankly, if it weren't for Borat and Winehouse, this list sounds like it could've been made anytime after the debut of Madonna's conical bra.
Still, it could very well be the best Bruce Lee knitting pattern in existence, so whatryagonnado?
[amazon via craftzine]
Previously: Vintage Mr. T Cabbage Patch-y Dolls, LOTS of them. I mean, like a pathologically large number. And more on the way. And more you can buy. And make. The show's been off the air for 20 years, people. Seriously.