If Ernest Hemingway really did write the short story, "For sale: Baby shoes. Never worn." I'm sure he never could have imagined it'd be quoted 10,000 times a day on eBay.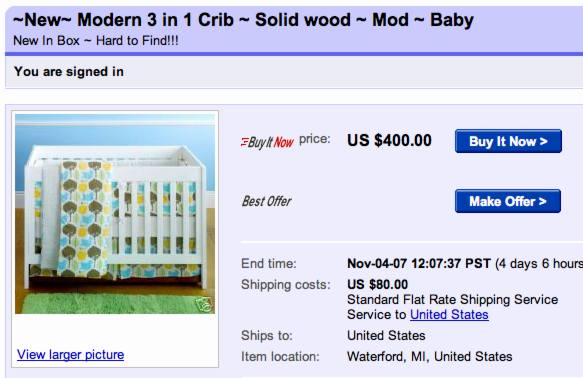 Quoted, and occasionally surpassed. This line from the description of a crib for sale pulled me up short, partly because there are so many ways to interpret it:
"Anyway, we got two and only need one, so here it is for you to enjoy!"
I imagine a stoic Midwestern family, struggling to put a happy face on rather than unload their grief on a stranger. Then I realize the Wal-Mart crib is being described as "hard to find!" and that it's being flipped for $180 more than its retail price.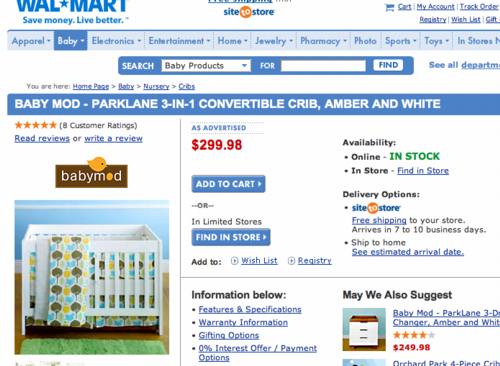 And now I can't decide if this story's more Flannery O'Connor or Jim Thompson.
If your muse is down for naptime, why not throw your 10-words-or-less short story in the comments?
~New~ Modern 3 in 1 Crib ~ Solid wood ~ Mod ~ Baby, $400 buy it now, +$80 shipping [ebay via dt reader mark]
Baby Mod - ParkLane 3-in-1 Convertible Crib, Amber and White, $299.98, free shipping [walmart.com]
Previously: Iscrewya: $119 Ikea crib, now $311 on eBay