Check out all the awesomeness that is captured on the Gangukan's blog. They have papercraft and wood toybuilding workshops for kids, a lot of craft exhibits [eh.] and a whole array of contemporary folk toymaker showcases and posts: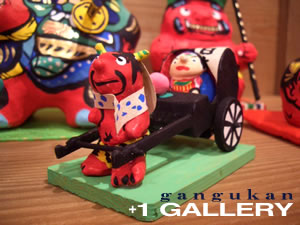 Momotaro-palooza: in September, the Gangukan's +1 Gallery showed a huge assortment of tsuchi ningyo, painted clay dolls depicting characters from Momotaro, by the artist Igarashi Kenji.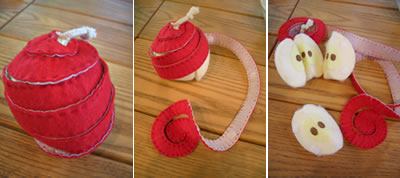 Felt nuigurumi and plush: In August, Ooe Hikuko's inventive felt and recycled fabric plush toys were shown as part of a nuigurumi workshop. Check out this felt apple [there's a great hen and chickens, too].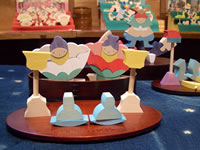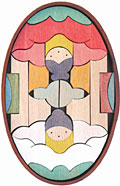 They got a little fixated on glassware and pottery for most of the spring and summer, but back in February, there was a show of Oguro Saburo's incredible puzzle dolls, a set of traditional hina matsuri display dolls that actually fit together, Enzo Mari-style, into a puzzle. Suh-weet. February's entries include several more examples of Oguro's work.
I'll post more when I get back from Home Depot; gotta pick up some paint for the nursery.