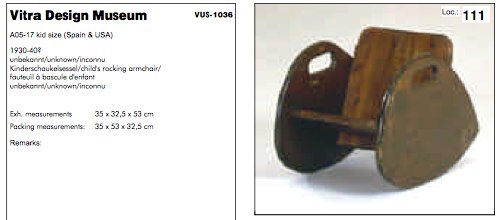 Who is running the tour schedule Vitra's exhibition, "Kid-Size: The Material World of Childhood"? That is seriously the hardest-working, slightly self-promotingest exhibition in the museum business. As with so many other things in the baby world, it feels momentous and once-in-a-lifetime when you first discover it in the flush of new parenthood. Only later you come to find out it's been roaming the world's second-tier museums non-stop for over a decade, no newer or groundbreaking than a BabyPlus.
But unlike the BabyPlus, at least Kid-Size is good for something. Exhibition checklists proliferate online, which have new items that get added to the mix [since the catalogue has nothing from after about 1996 in it].
Like this sweet, anonymous children's rocking chair, for example, which is ambiguously dated to the 1930-1940's. Who knows, by now maybe Vitra's folks have identified the designer or the manufacturer, or even the country, and just haven't updated their materials yet. [Like how they keep publishing the wrong date and attribution for Gloria Caranica's Rocking Beauty hobby horse for Creative Playthings.]
Whoever it turns out to be by, if you've got a bandsaw in the garage and a hankerin' to do some knocking off, C-A-L-L M-E. This thing looks nice.