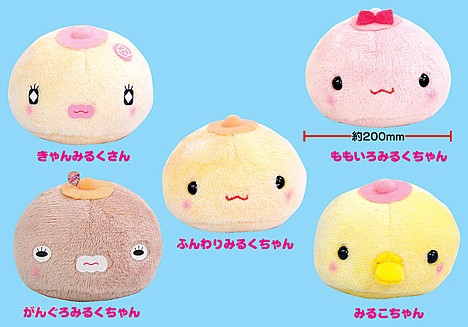 I am like a deer caught in the headlights--the modestly labeled but generously sized, multi-shaded, and extremely tactile-looking headlights--of Japan's plush toy masters.
The Funwari Milk-chan collection of plush breast toys includes three sizes: A cup [20cm diam.], B cup [28cm] and--sorry, key chain mascot size. They all live in Milk Village, which is about the size of the Tokyo Dome. Though "milk-chans tend to live together as couples," they are sold separately.
And even if you don't read Japanese, you may be able to feel your way around the Amazon Japan site by touch.
Funwari Milk-chan official site, all in Japanese [junplanning.co.jp, via Pink Tentacle, who has a recap of the whole Milk-chan characters.]
Buy Funwari Milk-chan plush breasts at Amazon JP, 500-1030 yen +shipping [amazon.co.jp]