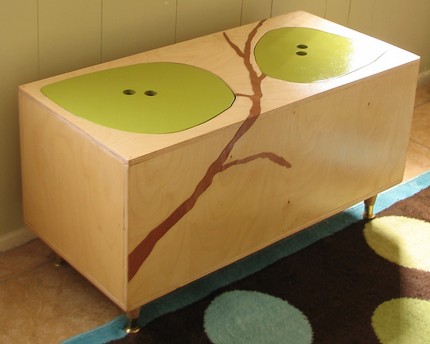 See, was that so hard? Kiersten at Mod Mom Furniture is making kid furniture in her garage again, furniture that's even based on her own designs. And it's not bad at all. As before, you can buy with confidence, knowing everything is 100% guaranteed to have been made in West LA by a former marketing executive while her kids are watching TV.
The Owyn Toy Box has leaves for lids, for example, which is cool, and the mid-century legs from her first original design [now dubbed the Gracie Toy Box] to get some notice. If it's made the same way as the little Maisy cube stool [below], the toy box vines are hand-drawn and hand-cut veneer laid down under the low-VOC poly.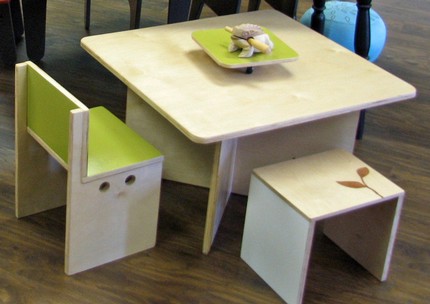 MMF also has some nice table & chair options, too. If you ask, I bet she'd put those fingerholes on the seatback of that Patrick chair, so a kid could use them to drag the it around. I don't quite get the lazy susan option, but then, I'm not Asian.
Owyn Toy Box, $220+shipping, and other stuff, $35-350 [modmomfurniture.com and etsy, via babygadget]
Previously: you know what, just Google it if you must.