<!form method="get" action="http://dt-go.com/cgi-bin/mt/mt-search.cgi"> <!input type="hidden" name="IncludeBlogs" value="3" /> <!input type="hidden" name="Template" value="daddy" /> <!input id="search" name="search" style="width: 270px; height: 15px;" /> <!input type="image" src="http://daddytypes.com/search.gif" height="18" width="159" border="0"> <!/form><!br />
Sliced-Through Predator Plush, This Time As Slovenian Performance Art
Wherever there's video of plush bunnies being extracted from a giant plush predator, I am there.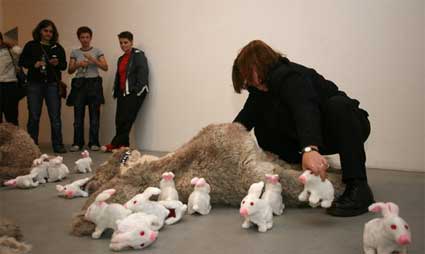 Regine posted about a recent performance/sculpture installation in Ljublana, Slovenia which eerily--and kind of hilariously--echoes Lizette Greco's adorable See-Through Predator video just featured on DT.
For Lupus in Fabula, Rome-based artist Myriam Laplante opened up three large stuffed bears on the gallery floor, and in addition to extracting a mound of plush intestines and a rack of fake ribs, she pulled out a whole flock of little robot plush bunnies, which hopped merrily around the gallery.
Until Laplante smashed each one on the head with a sledgehammer. Then she stitched the bear skins into a rug, and built a desk from the bones and a chair from the guts. Ye-ow. Don't watch this one with the kids.
Lupus in Fabula [wmmna]
highlights from Laplante's performance are on Google Video [video.google.com]
Previously: See-Through Predator Plush
posted October 10, 2007 11:01 PM | add to del.icio.us | digg this
<!something is wrong with my adserver, so until I fix it, no ads>